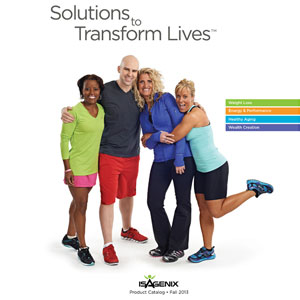 It's streamlined. It features a sleek, new shape. It's an ideal prospecting tool.
And you can get your hands on the all-new Fall 2013 Isagenix® Product Catalog absolutely free with your late August and early September Autoship order.
We'll be unveiling the newly-transformed Isagenix Product Catalog next month at 2013 "Live Out Loud" Celebration August 3-6 in Las Vegas, Nevada, but to make sure you get your FREE copy, you need to check your next Autoship! Only Autoship members and new Associates whose orders ship in mid-August through early September will receive this beautiful new catalog for free!
We gave our Field Advisory Board Members a sneak peek and here's what they said about the new catalog:
"I think it's a great improvement and I'm looking forward to seeing everyone use it."
-Jimmy S.
"I love all of the changes I'm seeing in our marketing tools. The more we can simplify, the better. The catalog has always been a great prospecting tool; this is excellent."
-Susan S.
"I am so excited about how it's been restructured–I can't wait to get my hands on it!"
-Ledell M.
So what are you waiting for? Get on Autoship to enjoy massive savings on your monthly product orders; qualify for all of the incredible bonus promotions and ensure you never run out of your favorite Isagenix products. Your next order could include what will be the most sought-after Isagenix Product Catalog in the history of the company!
Stay tuned to IsaFYI.com during Celebration August 3-6 to take a peek at this beautifully-revamped showpiece!