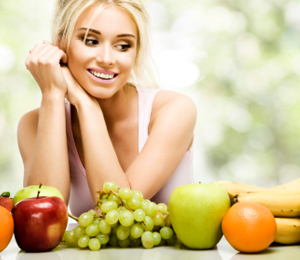 Living gluten-free can be challenging, especially when it comes to getting the nutrients you need on a daily basis. Reading labels and skipping products containing wheat, rye and barley to avoid gluten can be frustrating, too.
Isagenix is here to help. We are committed to providing the highest quality of products while also ensuring that they're as accessible to as many lifestyles as possible.
Whether you're looking for healthy options for breakfast, lunch, dinner or even a snack, Isagenix has made eating nutrient-rich gluten-free products easy and affordable. In fact, did you know that nearly all of Isagenix products are gluten-free, including the company's highly sought-after five pillars of health: IsaLean® Shakes, Ageless Essentials™ Daily Pack, Product B™, Ionix® Supreme and the newly reformulated Natural Rich Berry Cleanse For Life®? It's true!
Here's a list of a few our most popular gluten-free products:
Best Product to Kick Start Your Day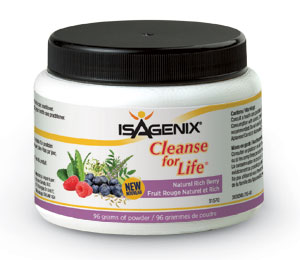 Natural Rich Berry Cleanse For Life®—Newly reformulated and even more potent, this powder cleanse has no preservatives and tastes even better. Its small, travel-friendly canister adds an extra level of convenience to gently ridding the body of everyday impurities. Learn more.
Best Products for Meals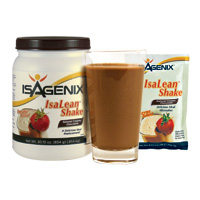 IsaLean® Shake—Developed with the highest-quality of undenatured whey protein from New Zealand, this 240-calorie meal replacement in Natural Creamy Vanilla and Natural Creamy Chocolate curbs hunger and helps supports lean muscle. Learn more.
IsaLean® Bars—Also formulated with high-quality whey protein from New Zealand, these 260-calorie meal replacement bars are ideal for busy on-the-go lifestyles, especially during a Shake Day. Plus, because IsaLean Bars are low-glycemic, this balanced meal reduces cravings and keeps you satisfied for hours. Learn more.
Best Products for a Snack: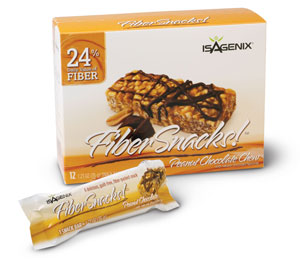 FiberSnacks!™—Packed with 24 percent of your daily recommended amount of fiber (both soluble and insoluble), these crispy, peanut chocolate chews are ideal for those on-the-go lifestyles. Learn more.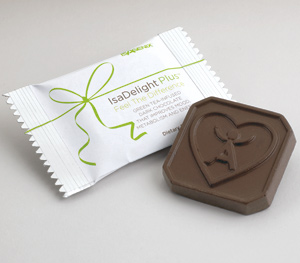 IsaDelight Plus™—Chocolate lovers eat your heart out. Each power-packed, green tea-infused creamy dark chocolate increases energy levels, combats hunger, and improves mood. Learn more.
Isagenix Snacks!™—Formulated with chromium to naturally curb hunger, these vanilla or chocolate-flavored Snacks! provide a perfectly portioned, everyday treat. Learn more.
Best Products for Energy

Ionix® Supreme—Available in natural liquid or natural fruit-flavored power, this nutrient-rich tonic took Isagenix Founder and Master Formulator John Anderson more than 10 years to perfect. The performance enhancing formulation is complete with natural vitamins, minerals and extracts from around the world that help to reduce stress, increase energy, combat anti-aging and support everyday bodily functions. Learn more.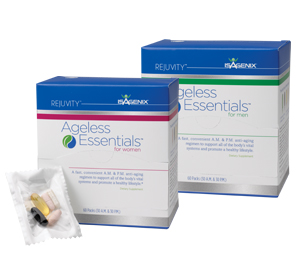 Ageless Essentials™ Daily Packs—Each individually wrapped A.M./P.M. pack (for men or women) provides the daily recommended amount of vitamins, mineral, antioxidants and special age-defying nutrients. The 30-day supply helps slow the progressive degeneration of the body; support cardiovascular and brain health; long-lasting antioxidant protection; and advanced nutrient-delivery technology. Learn more.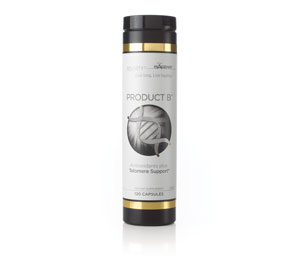 Product B™— To target the ultimate causes of aging, you have to go beyond the surface. Product B provides key antioxidants to support telomere health and aid youthful aging. When taken in conjunction with the Isagenix pillars of health products, you'll enjoy a prolonged feeling of youthful vitality and health. Learn more.
Want More Energy?® Sticks—It's simple. Step-up your energy with an all-natural caffeine-free powder drink in Tropical Fruit & Hibiscus, Orange or even Citrus. Just add water. Learn more.
Best Systems to Fit a Gluten-Free Lifestyle
Below is a list of all the systems and paks that are available to those living a gluten-free lifestyle.
The Total Health and Longevity System with Product B™
30-Day Cleansing and Fat Burning System™ with Ageless Essentials Daily Pak™
The Pillars of Heath System with Product B™
9-Day Deep Cleansing and Fat Burning System™
To learn more about how Isagenix products can fit in your lifestyle, take a look at our Allergen Table.