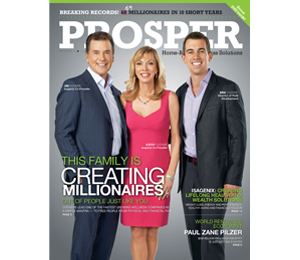 We've heard some amazing results since 2012 "Your Future Starts Today" Celebration about how this issue of Prosper magazine is being used by top leaders to grow their businesses. The results are incredible—some teams are even averaging six enrollments for every 10 magazines!
So, we've decided to send any Associate who has enrolled three new members or more in the past three months a complimentary copy in their next Autoship order. If you're one of those high-achieving Associates, you'll also get a special opportunity to receive 15 percent off your next IsaSalesTools.com order AND an extension on the money-back guarantee offer.
Prosper magazine includes interviews with top leaders, highlights on our exciting products such as Product B™ Antioxidants plus Telomere Support and much more! The magazine is available for purchase on IsaSalesTools.com.