Did you know that more than 75 percent of Americans say they will likely gift a sweet treat to their family and friends this holiday season, according to the National Confectioners Association? You read that right! Roughly three out of every four holiday guests will pop by your place with a plate of sugary snacks.
But, we all know firsthand that the satisfaction from sweets is only temporary. And if we're being really honest, having too much sugar just isn't good for us. That's why more nutritious options are trending — health is the gift that keeps on giving! Find more ways to share the health this season with our Healthy Giving Guide.
Santa's Secret Stash
Reindeer chow is always a crowd pleaser. It also may or may not be a favorite of the big guy up north. (Yeah, we know him.)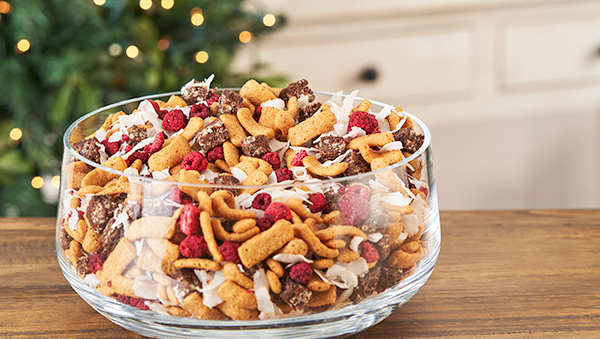 This traditional treat is nutritious, delicious, and packed full of protein to combat that rumbly tummy as you wait for the big holiday meal. Here's what you'll need to whip up this festive fave:
1/4 cup unsweetened coconut chips.
1/2 cup freeze-dried raspberries or dried cranberries.
Check out this video for a step-by-step tutorial on how to make reindeer chow:
If you're on a personal journey toward health and wellness right now, we are here for you. Staying on track during the holidays can be hard — we know — but we're here to tell you it doesn't always have to be. You can use resources like our Healthy Giving Guide and try any of our recipes to maintain momentum all season long. Be prepared to see Results You Can't Get Anywhere Else™!
Head to HealthyLivingAndGiving.com for more holiday morsels you can chow down on, minus the guilt.
'Tis the season to work toward a new and improved version of YOU!