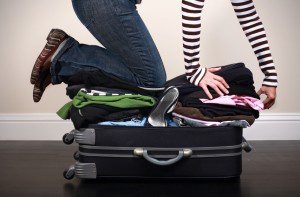 Tempted to make a quick stop at a local drive-thru restaurant to save time on your vacation? A little bit of preparedness and Isagenix® could go a long way for your wallet and your waistline!
Pack up the cooler and your IsaBlender®: Isagenix is road-trip ready. Here are the perfect Isagenix foods to take with you whether you're just going on a long drive or a cross-country flight:
Quick, Meal-on-the-Go with IsaLean® Bars. Who hasn't been grossed out by airport food? Whether it's the fryer churning out yet another greasy batch of potato-like strings or melty, fat-laden ice cream, you never want to travel on a stomach full of these kinds of harsh, bad-for-you foods. Save money and calories with delicious IsaLean Bars and replace your breakfast, lunch or dinner if you're unable to make your normal IsaLean Shake. With flavors like Lemon Passion Crunch, Chocolate Peanut Crunch, Chocolate Decadence and Chocolate Cream Crisp, you'll feel like you're indulging on a decadent candy bar without the residual guilt.
Fill Up with FiberSnacks!™. Skip the tempting treats and the snacks that line the shelves of that bookstore-turned convenience counter and reach for a 150-calorie, fiber-rich FiberSnacks! bar instead. With insoluable and soluable fiber to fill you up, they'll also help you reach your daily intake of this key material and keep your digestion on the right track.
No Cooler? Take Your Fruits & Greens on-the-Go. Nothing is a true substitute for enjoying fresh fruits and vegetables, but most of us don't get enough of the antioxidant-boosting matter in our bodies on a daily basis. Add travel time to the agenda and you could be even more hard-pressed to hit your 24-hour intake. Grab IsaFruits® and Isagenix Greens!™ Packets and you'll be enjoying over 30 fruits (cold pressed to maintain the nutrient power) along with prebiotics (for your digestion) and a mixture of supergreens packed with fortifying phytonutrients to give your body an energizing, natural boost.
Have Your IsaLean® Shake in Your Hotel Room. Really, whether you're on a work trip or on vacation, all you need is your super light, portable IsaBlender®, a bottle of purified water, a little ice from the ice machine down the hall and convenient packets of IsaLean Shake to make your breakfast or dinner right in your hotel room. Using up a small space in your suitcase will be 100 percent worth it when you escape the extra pounds that often creep up during travel time. No ice or want to skip bringing the IsaBlender? Grab your IsaLean Shake packets, an IsaShaker™ Bottle (it has a little metal blender ball in it) and a few bottles of purified water from the lobby and you're good to go.
Skip the Soda & Turn to Want More Energy?®. Dragging a bit? Between the travel time you log, time zone changes and simply expending more energy than perhaps you normally would, you could find yourself reaching for a soda or extra-whip mocha. But, your body is likely craving something that won't make it crash. Try handy Want More Energy? Sticks in Orange or Citrus. All you need is a bottle of purified water or your shake to add a little extra zing to your day the natural way.
Get your travel on and stock up on these handy products so you're ready for anything! Visit your Back Office "My Orders" section to add a few to your Autoship now while you're thinking about it.
To learn more about each of these products, visit IsaProduct.com's "Products" section.