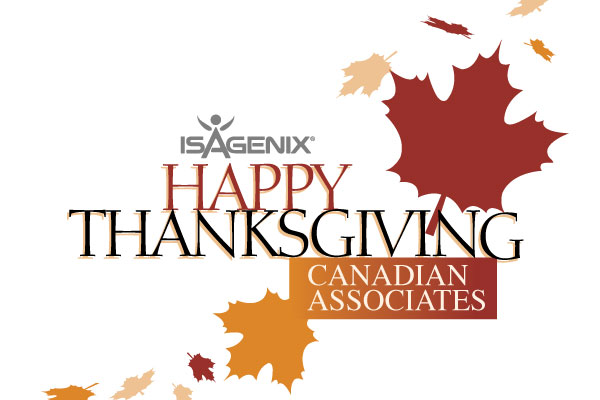 Happy Thanksgiving to our Canadian Isagenix Associates! Here at Isagenix, we wanted to wish you a very special Thanksgiving holiday. We're so thankful for you and hope you enjoy this special occasion with your friends, families and loved ones.
Also, it's that time of year where family gatherings bring out the best family traditions—including sampling those secret family recipes. Craving the usual holiday trimmings for Thanksgiving dinner? That's just fine.
But also remember to incorporate your new Isagenix family tradition in the mix for optimum great-for-your-body results: cleansing after the holidays.
Cleansing often gets a negative reputation. You probably believe that to receive optimum results of the cleanse that you'll need to complete the 2-day cleanse.
Think again.
What's great about cleansing with Isagenix is that it's effective and flexible in more ways than one.
One method of Isagenix cleansing is daily cleansing. This involves drinking Cleanse for Life™ in Natural Berry (a perfect cranberry relish replacement) on a daily basis while still consuming shakes (try the pumpkin pie shake for dessert!) along with your 400-600 calorie meal (say "yes" to your holiday favorites!).
Many who choose their daily cleansing route take their Cleanse for Life before they go to bed when the body naturally fasts during sleep. But really, Cleanse for Life can be consumed any time of the day.
As to which method is better—a one- or two-day cleanse—either is ideal! Any amount of time the body is given a rest for normal digestion of foods and meals is beneficial.
After Thanksgiving, two days of cleansing may bring additional benefit in allowing the body more time to restore and rejuvenate, but science shows fasting for one day can still be beneficial for health through increasing the body's production of growth hormone, which plays an important role in muscle building, preventing muscle breakdown and increasing fat burning.
Whichever way you choose to cleanse over the holidays, Isagenix wishes you a happy and safe Thanksgiving! Cheers to that.