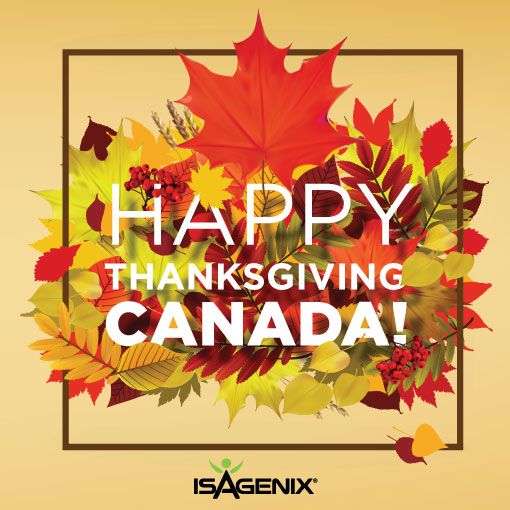 It's Thanksgiving in Canada!
On this day, we want to share how thankful we are to have you as part of our Isagenix family. We wish you and your loved ones a very happy Thanksgiving.
Just a friendly reminder that Monday, October 12 (Thanksgiving Day) is also a bank-recognized holiday.
As your family gathers around the table filled with their favorite holiday trimmings, be sure to share one of your favorite Isagenix fixings. A cool-weather favorite, and perfect for Thanksgiving, is our creamy Butternut Squash IsaLean® Soup. This warm, hearty (and don't forget, good for you!) option is a surefire way to satisfy everyone's cravings. Then, for dessert, whip up this easy Pumpkin Spiced Latte recipe:
2 scoops Creamy French Vanilla IsaLean® Shake
1 tbsp canned organic pumpkin
1 pinch cinnamon
6 oz water
3 ice cubes
Combine ingredients, blend in an IsaBlender®, and enjoy!
Your Post-Holiday Reboot
Holidays are all about celebrating. Whether you overindulged in one too many helpings or doubled up on dessert, Natural Rich Berry Cleanse for Life® will help you restore your body's balance.
Available in 32-ounce liquid bottles, convenient 2-ounce grab-and-go bottles, and a travel-friendly powder, Cleanse for Life supports detoxification, encourages safe weight loss, and helps boost your mental and physical performance.