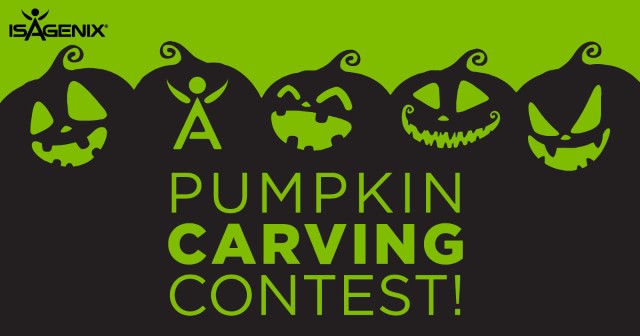 Costumes, candy, and carving pumpkins. These three things define the Halloween season. So, to help get you in the Halloween spirit, we want to give everyone a chance to win their favorite seasonal IsaLean® Shake, Pumpkin Spice!
Curious about how you'll be able to get your claws on a few free canisters of Pumpkin Spice flavor IsaLean Shake? Be one of three winners of our pumpkin carving contest!
Starting today, Oct. 18, 2017, and ending Tuesday, Oct. 24, 2017, we're asking you to share a pic of your Isagenix-themed jack-o'-lantern on Facebook or Instagram. We will pick the best three Isa-themed designs and reward each winner with two canisters of Pumpkin Spice!
Maybe you want to carve out your favorite shake flavor, or dress up the IsaGuy in a scary costume. Whatever your carving creation, to successfully submit your entry and be eligible to win, you must do the following:
1) Creatively carve your pumpkin, making sure that the design is Isagenix themed.
2) Take a picture of your carved Isa-pumpkin.
3) Post your pumpkin photo on the Isagenix Facebook page, or post it to your Instagram account and tag Isagenix (@Isagenix).
You can enter as many times as you want with as many different Isagenix-themed designs, but you can only win once. We've included a few stencils with some ideas to help get you inspired. Feel free to use those, enhance them, or create your own design!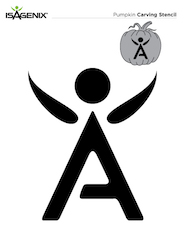 Here's some pumpkin facts to inspire you!
1 cup of pumpkin (about 116 grams) contains approximately 30 calories, 0.1 grams of fat, and 0.6 grams of fiber.
The largest-ever pumpkin pie was baked in 2005 and weighed over 2,000 pounds.
Pumpkins have grown in North America for 5,000 years and are indigenous to the western hemisphere.
Pumpkins are a member of the gourd family; these plants are native to Central America and Mexico but now grow on six continents.
Happy carving, and good luck!