Traditional marketing is no longer enough, but it can be difficult to navigate the ever-changing social media landscape. That's why the Isagenix Social Media Success Guide is our December Tool in the Spotlight!
Created with the help of Isagenix top leaders Zach Slobin, Gina Mote, Hayden and Emily Vavra, Tyler and Kelley Dickerhoof, and Ciji Siddons, the Isagenix Social Media Success Guide offers a thorough yet simple presentation of how to create a focused, comprehensive, and compelling social media presence.
With your purchase, you receive a guidebook and DVD that can help you:
Learn how social media and network marketing go hand in hand
Create a personable, likable, and trustworthy online presence
Craft compelling and powerful social content that can extend your reach
Encourage others to reach out to you because they're interested in what you are doing
Master the social media etiquette guidelines you're expected to follow
And much, much more!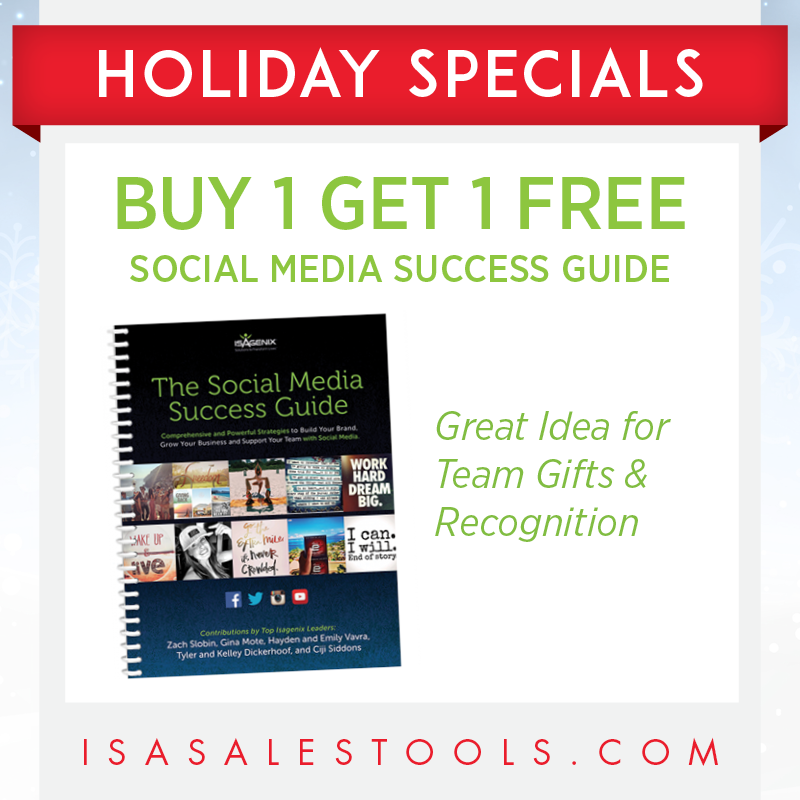 This guide is a perfect holiday gift for your friends and business builders! It provides all the social media tools required to help their Isagenix businesses thrive in today's digital world. And right now, you have the opportunity to buy one Isagenix Social Media Success Guide and get one for FREE* through the end of December!
To check the Isagenix Social Media Success Guide off your holiday gift list or purchase one for yourself, head over to IsaSalesTools.com.
Can't Get Enough of the Tools?
Fill up your toolbox with the best-selling tools today! Visit IsaSalesTools.com, and pick up the Best Sellers Pack:
1 IsaBody™ Look Book: 10th  Anniversary Edition
1 IsaBody Journal
1 Isagenix Fall 2016 Product Catalog
1 New Member Enrollment Tear Pad (50 count)
10 Transformed Lives Magazines
25 Solutions Brochures
25 "Why Cleanse?" Pocket Brochures
1 Pack of Each Sampling Card (e+™ shot, IsaDelight®, IsaLean® Shakes, AMPED™, and IsaLean Bars)
*Buy one, get one free offer on the Social Media Success Guide is good through December 31, 2016, at 11:59 p.m. ET.