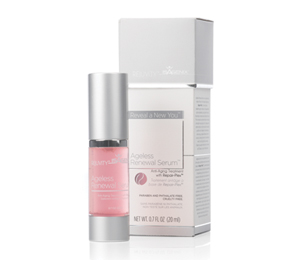 How would you like to have younger, firmer looking skin in 30 days? Ageless Renewal Serum is the key to making that happen!
Unlike any other product on the market, Ageless Renewal Serum is a bio-technically advanced treatment that includes Repair-Plex™, a cutting-edge complex containing specially formulated ingredients and polypeptides, also known as epidermal growth factors to stimulate the skin's natural replenishing process.
Applying this revolutionary skin rejuvenator twice daily will help diminish the look of deep lines and wrinkles, firm, tone and brighten the look of your skin, and reveal a younger looking you. What's more, you can see results in as few as 30 days!
For best results:
Step 1: Thoroughly cleanse face, neck and upper chest before applying Ageless Renewal Serum.
When using Ageless Renewal Serum, we recommended not using the IsaDermix® Anti-Aging Treatment Toner as it may impede delivery of the Repair-Plex properties within Ageless Renewal Serum. 
Step 2: Smooth one pea-size pump of Ageless Renewal Serum over clean, dry skin. Do not lather or rub.
Step 3: Wait 5 minutes for complete absorption before applying any additional skincare and/or cosmetic products.
Use morning and night. One bottle will last approximately 30 days. If applying to other areas of the body, an additional pump may be necessary.
For more information on Ageless Renewal Serum, visit Isagenix.com.