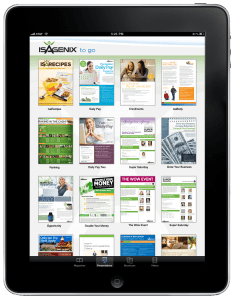 Isagenix has made impromptu presentations a cinch thanks to the IsagenixToGo app for iPhones, iPads and Android devices.
Now, updated with even more product information, flyers, "how to" instructional videos for our most popular paks and systems, video highlights from 2012 "Unlock Your Future" New Year Kick Off and much more, you can access your on-the-spot Isagenix® information with the touch of a finger.
To download the FREE IsagenixToGo app, simply go to IsagenixToGo.com from your iPhone, iPad, or Android device and click on the download button that matches the device you own.
Note: If you've already downloaded the IsagenixToGo app on your device, you may need to re-download the latest version to receive the most up-to-date information.
For more technology-related topics, visit IsaGeeks.com.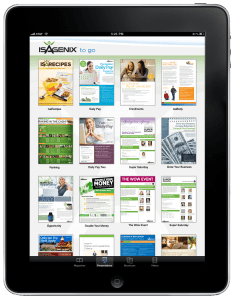 Isagenix ha hecho que sus presentaciones improvisadas sean muy fáciles gracias a la aplicación IsagenixToGo para iPhones, iPads y dispositivos Android.
Ahora actualizado con aun más información sobre producto, folletos,  vídeos de instrucción para nuestros paquetes y sistemas más populares, video destacado del New Year Kick Off 2012 "Unlock Your Future"  y mucho más, puede acceder toda esta informacion de Isagenix® con el toque de un dedo.
Para descargar la aplicación gratuita IsagenixToGo, simplemente vaya a IsagenixToGo.com desde su iPhone, iPad o dispositivo Android y haga clic en el botón de descarga que corresponda al dispositivo que usted posee.
Nota: Si ya descargo la aplicación IsagenixToGo en su dispositivo, puede que tenga que volver a descargar la versión más actualizada para recibir la información más reciente.
Para más temas relacionados de tecnología, visite IsaGeeks.com.