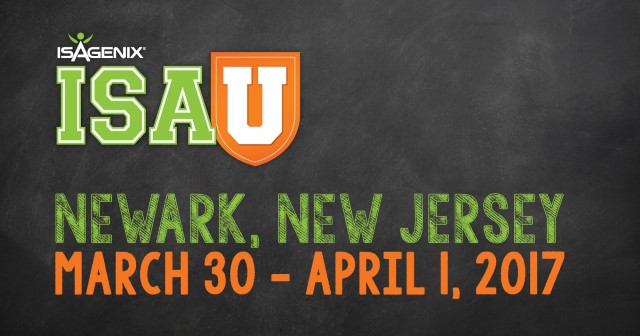 We are hosting an Isagenix University (IsaU) near you, and we want you to be there! IsaU is coming to Newark, New Jersey on March 30 through April 1, 2017.
What's an IsaU?
This event is your chance receive exclusive training on how to grow your Isagenix business; talk about our superior, no-compromise products; encourage and develop team members; and more. Gather your fellow team members to attend together, or bring someone new to experience the excitement and culture that surrounds Isagenix.
IsaU Newark will give you the chance to develop your skills as a professional network marketer and acquire business-building strategies from Isagenix top leaders. We are preparing a great lineup of our best trainers to set you up for success this year. On top of that, you will have the opportunity to hear from our Owners, Jim and Kathy Coover, onstage!
We want you to leave IsaU Newark feeling motivated to wake up every day and share your passion for Isagenix with others. Want a sneak peek into the IsaU experience? Check out this video!
If you don't want to miss your chance to unlock your potential and take advantage of our incredible business opportunity, then visit IsagenixEvents.com, and register now!
Additional Training Opportunities
On top of all the great training you will receive during IsaU Newark General Session, 1-Star Silver or Golden Circle Associates and above can receive leadership development training at Road to Success. This session will be held Thursday, March 30, 2017, and is free to 1-Star Silver or Golden Circle Associates with an IsaU Newark ticket! Plus, any new or prospective Associates can get an introduction to all things Isagenix, including our world-class line of products, unique culture, and exciting business opportunity at Experience Isagenix. Also held March 30, 2017, this session is open and free to anyone who is interested in learning more about Isagenix, so bring a friend (or three!).
IsaU Newark is fast approaching! Tickets for this event are still available, so we encourage you to secure yours today by visiting IsagenixEvents.com.
Can't make it to New Jersey? We have two more IsaU events and several other events coming up in 2017! For more information on locations and tickets, visit IsagenixEvents.com.