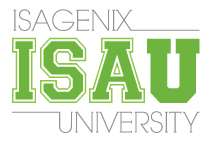 Time is running out for you to get your tickets to two incredible upcoming Isagenix® University events: Phoenix and Kansas City!
Join Isagenix Co-Founders Jim and Kathy Coover and the Field Advisory Board at Phoenix IsaU for a BIG announcement or top-income earners and Associate speakers Isagenix Millionaire, 5 Star Crystal Executive, 9 Star Platinum Circle Hilari Courtney and Isagenix Millionaire, 9 Star Crystal Executive, 10 Star Platinum Circle Lynn Hagedorn at Kansas City IsaU.
Take advantage of the new, two-day format and learn about our incredible no-compromise products, how to maximize our generous compensation plan, grow stronger relationships with your team and play our new "IsaMillionaire" game for your chance to win cash prizes.
Plus:
Gain expert business-building tips
Learn how to apply our new "You + 2 and Them + 2" concept to your business
And, load up on cutting-edge products purchased at the World of Isagenix Store.
Register before Sept. 30 for Phoenix IsaU or October 21 for Kansas City IsaU and you'll receive a FREE gift when you arrive at Event registration.
To purchase tickets to this limited-seating event, log in to your Back Office "Orders" section and select "View & Manage Events" followed by "Corporate Events" before choosing "University" from the dropdown menu.
Opportunity Meeting: October 25
IsaU: October 26 – 27
Training for 2 Star and above: October 28.
Kansas City, MO
Opportunity Meeting: November 8
IsaU: November 9 – 10
Training for 2 Star and above: November 11
For more information on upcoming IsaUs, visit IsaFYI.com's "Events" tab.