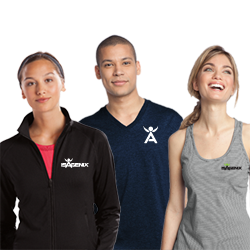 Just in time for the holidays and 2013 "Focus on Your Future" New Year Kick Off January 3-6, 2013 in Phoenix, Arizona we are thrilled to announce the launch of IsagenixGear.com, our new apparel and accessories line! Through an exciting new partnership, this website features thousands of branded Isagenix® apparel and accessory items for you (and your team members!) to select from. Choose from high-quality name brands like Port Authority, Sport-Tek, Eddie Bauer and Nike affixed with our logo on clothing, caps, accessories, travel bags and more. Plus, shopping has never been so easy or convenient! Just go to IsagenixGear.com and let your mouse do the walking. IsagenixGear.com makes purchasing that supercute item a cinch! Want more reasons to purchase Isagenix-branded gear?
 It's a great conversation starter
 It's an easy way to get noticed and promote your business
 It's the perfect memorable award for recognizing your team members
So, what are you waiting for? Shop today and get in gear with Isagenix! Check out IsagenixGear.com today.