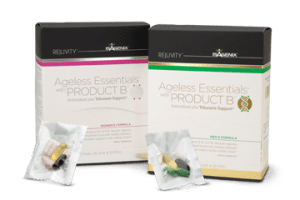 Have you ever sat down and tried to figure out how much nutrient-rich foods you would need to consume each day to get the same amount of vitamins and minerals as your twice daily Ageless Essentials™ with Product B™?
Ageless Essentials with Product B is our supercharged multivitamin pack containing your daily dose of vitamins, minerals, antioxidants and special age-defying nutrients that are propriety to Isagenix and like no other on the market. One 30-day supply of individually wrapped A.M. /P.M. packets includes Essentials for Men™ or for Women, Ageless Actives™, IsaOmega Supreme®, C-Lyte® and twice daily Product B.
To compare, we went food shopping to see just how much organic food you would have to consume each day to get the same value of nutrients found in your multivitamins.
The result:
250 glasses of red wine (Resveratrol)
10 pounds lean beef (CoEnzyme Q10, Vitamin B12)
34 dried apricots (Vitamin A)
11 organic oranges (Vitamin C)
45 raw oysters (Vitamin D3)
33 ounces pistachios (Vitamin B1)
1 cup organic peanut butter (Vitamin B3)
13 cups wheat bran (Vitamin B6)
22 ½ raw avocados (Vitamin B5)
7 spears asparagus (Vitamin K2)
10 cups raw organic spinach (Folic acid)
22 organic mangos (Magnesium)
20 free range eggs (Biotin)
9 ounces shrimp (Selenium)
2 ½ cups sun dried tomatoes (Copper)
The bill: A whopping $550.
The answer: Ageless Essentials with Product B.
To learn more about Ageless Essentials with Product B, visit Isagenix.com.
*Source: Heathaliciousness.com and USDA National Nutrient Database for Standard Reference