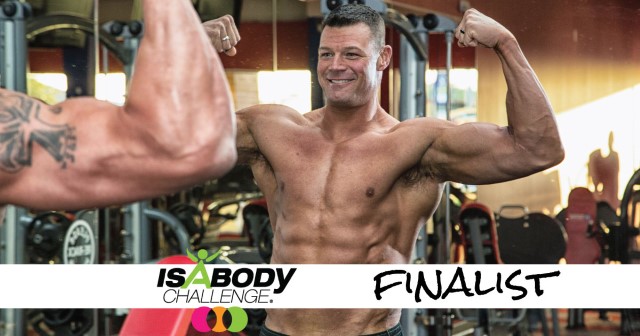 Former professional baseball player Alvie S. fell into a rut of negative thoughts, bad habits, and overall unhealthy living after an injury forced him into early retirement. Surviving a brain aneurysm was a huge wake-up call that forced him to start making changes so he could live the way he always wanted.
"I wanted a family, and I knew my lifestyle wasn't conducive to family life," Alvie explains about his decision to change. "I took that seriously and started changing my habits, eating correctly, and working out."
Then Isagenix and the IsaBody Challenge® entered his life.
Finding His Passion Again
At his highest post-baseball weight, Alvie was over 300 pounds. His new workout routine gave him results, but he desired to get in even better shape. His goal was to get down to the weight he was when he played professional baseball. After being introduced to Isagenix by a friend, and within 45 days of using the products and pursuing the business opportunity, Alvie enrolled in his first IsaBody Challenge.
IsaBody was a way for Alvie to take his body and health to the next level as well as an avenue for putting on lean muscle. He had already achieved his weight-loss goals, getting down to a lower weight than when he played ball. So he upped his game, went to the gym daily for two to three hours, and became passionate about transforming his body and his mind.
Alvie had been hoping to regain his passion ever since retiring from baseball, and he found that passion again through the IsaBody Challenge.
"I wake up every day, and I am excited. I am pumped! I can't wait to take my AMPED™ Power, and I can't wait to go pound the weights," Alvie says. "I did not have that mindset since 2000, before I retired from baseball."
Yes You Can!
Another huge reason Alvie decided to change his life was because of his family. His son was born during his second Challenge, and his daughter was born during his third and most recent Challenge. His 2-year-old son loves to do workout poses with him, and Alvie hopes to set a healthy example for both of his children.
The Isagenix business opportunity has also been a positive experience for Alvie and his family. After starting Isagenix, Alvie was able to grow his team and his business with his wife and children as his motivation. He has been able to help others through his Isagenix business and the IsaBody Challenge.
Even with all the excitement of becoming a Finalist, Alvie says, "My biggest focus right now is helping my team."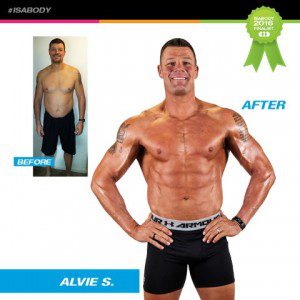 Since getting the call about becoming a Celebration Finalist, Alvie has received multiple messages and phone calls about his success and about the business, and people have reached out to him about enrolling in the Challenge, which he loves encouraging others to do.
"I tell everybody I sign up, if you're looking to break past mental and physical barriers, this Challenge is for you," he explains. "Anything's possible. It doesn't matter where you came from, what your past is, or where you are right now. You can do anything that you put your mind to!