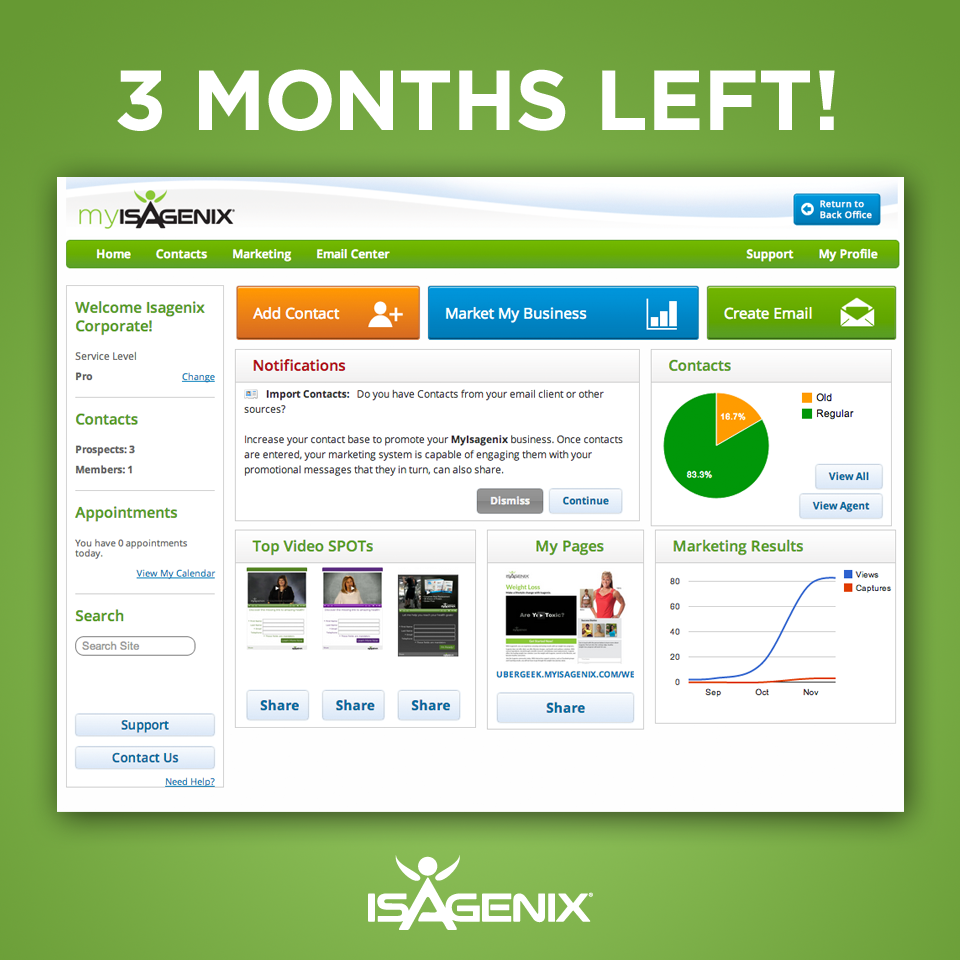 The reviews are in! MyIsagenix is quickly becoming the industry's No. 1 business-building tool; and, it's free to try until Saturday, March 1, 2014!
Available in the U.S. and Canada, MyIsagenix is a content management and leads system that allows you to use engaging content to market your business through social media, email and blogs.
Its sleek, new look and easier-to-use features make it a cinch for you to organize your business, communicate with prospective new leads, and coach remotely on new products and business opportunities.
Associates are so impressed with MyIsagenix they can't stop talking about it. In fact, here's what a few Associates are saying:
 "I don't mind paying for valuable tools like this. I can see the return on my investment."
-1-Star Silver Circle and Manager Patsy C.
"I am so thankful for my Isagenix family and this business. This truly is a role model for how companies should be. Always doing what is BEST for the customers and the Associates!"
-1-Star Golden Circle and Crystal Executive Candace W.
"Just took some time to look at the virtual coaching aspect in MyIsagenix. [The word is] STOKED."
– 3-Star Golden Circle and 1-Star Crystal Executive Zach S.
To try MyIsagenix for free until Saturday, March 1, log in to your Back Office and select the "Resources" tab and "MyIsagenix," or go to MyIsagenix.com and log in. Next, select the MyIsagenixPro level so you can experience the best level of service. Please note that you will need to include billing information, but you will not be charged during the free trial period.
And don't worry: MyIsagenix comes with a user manual and additional training documents, although we highly doubt you'll need them.
To see how you can take advantage of MyIsagenix after Saturday, March 1, check out this article.
For more information on MyIsagenix, tune in to this podcast or watch the video below!
http://youtu.be/tbG-nnQQumQ