Welcome to Launch Party Week! This is the second of three Launch Party Weeks in your 90-Day Global Game Plan. This week is designed for you to share the Isagenix vision far and wide with one of our favorite business building tools: the Launch Party.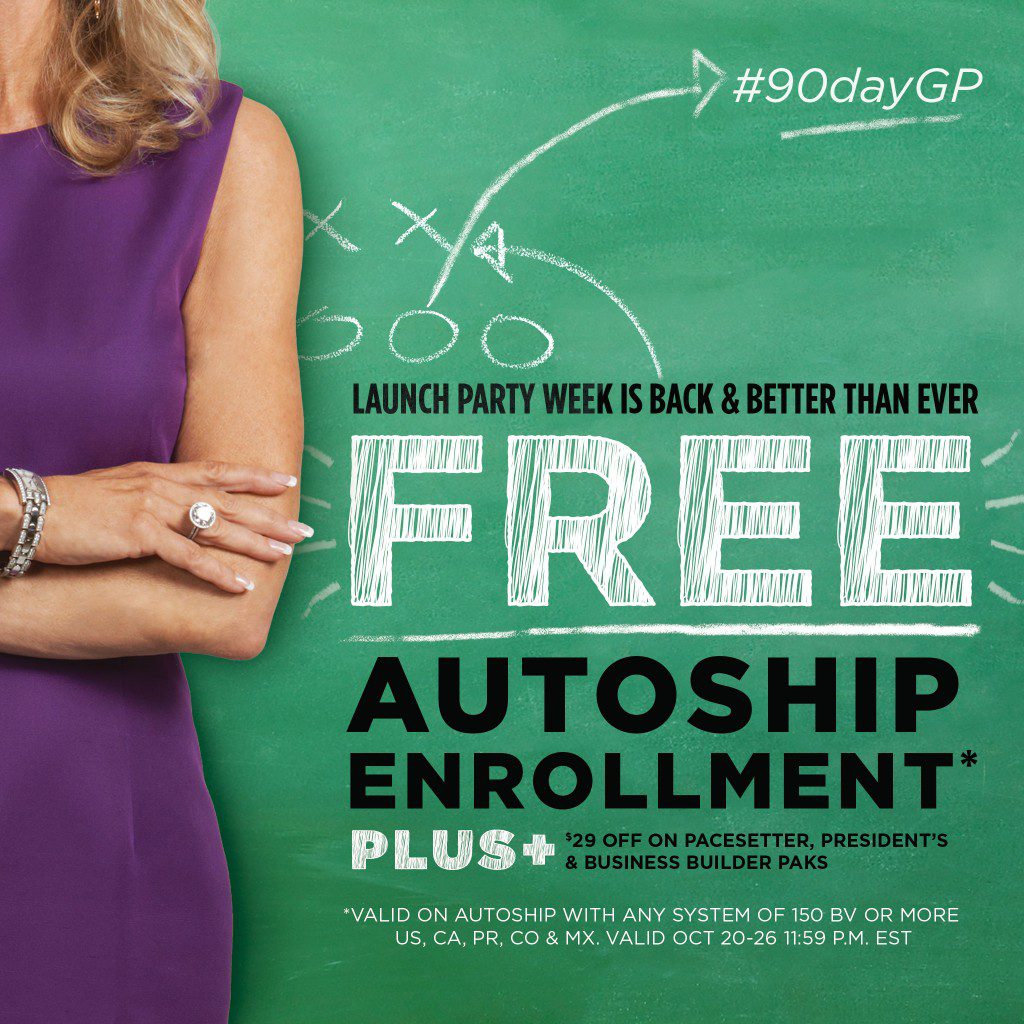 Tune in to our Launch Party Week podcast for tips on having a successful Launch Party Week.
To help you maximize your success—this week only—we're offering a special incentive for new Isagenix members!
Any new member (that's someone signing up with Isagenix for the first time) who starts Isagenix with an Autoship* order of 150 BV or higher will receive free enrollment! That's a $29 value! Paks and systems that include membership (like the Pacesetter Pak or Business Builder Pak) will receive a $29 discount. So make sure you help your Launch Party attendees get started with Isagenix before midnight EST on October 26 so they can take advantage of this great offer.
An Isagenix membership is always a great value, so don't let your guests miss out on getting their enrollment at no cost!
Don't forget to showcase Isagenix products at your Launch Parties. Some bite-sized samples of IsaLean® Bars are a great way to share the Isagenix story and satiate your guests!
Want to share Isagenix with someone who can't attend your launch party? Let Isagenix Co-Founder and Executive Vice President Kathy Coover and Vice President of Global Field Development Erik Coover share the Isagenix story in a special Opportunity Meeting replaying exclusively at IsagenixLive.com October 23 to 26 until 11:59 p.m. EST.
To learn how to throw a successful Launch Party, visit IsagenixBusiness.com and select "Tools." And, during the 90-Day Global Game Plan, you can save $5 when you purchase your Launch Party Kit at IsaSalesTools.com by using the promo code LAUNCHWEEK.

Stay tuned to IsaFYI.com for the latest Global Game Plan news. Join the conversation on Twitter with #90DayGP.
* Autoship is a convenient service that automatically ships the product of your choice every 30 days.
** Free Autoship enrollment is automatically applied to qualifying orders placed from October 20, 2014 to October 26, 2014. To qualify, an Autoship order of 150 BV or more must be placed by a new member enrolling as an Associate in the United States, Canada, Puerto Rico, Mexico or Colombia. Australia and New Zealand are offering an alternative Launch Party Week promotion, visit anz.isafyi.com for more details.