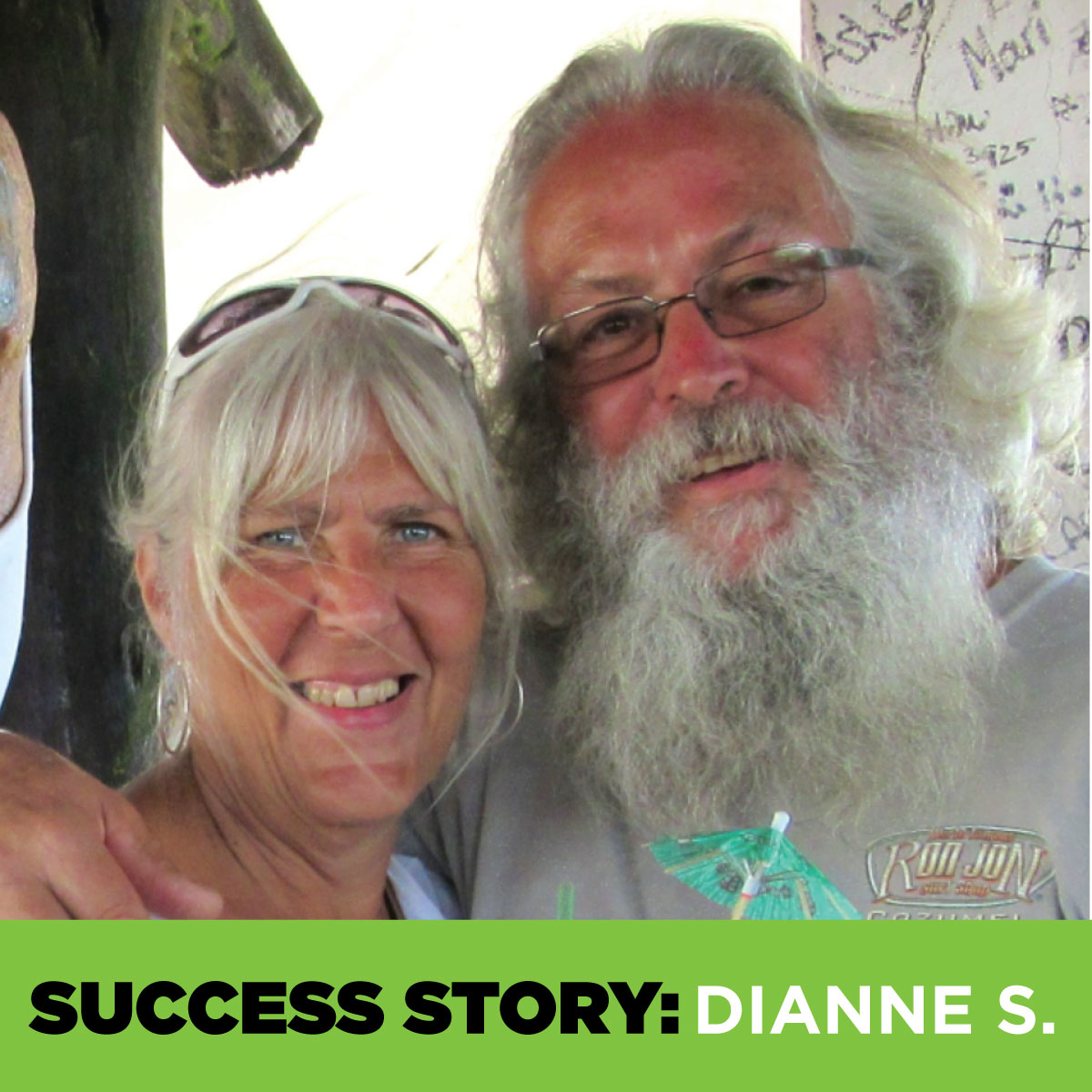 On the heels of 60 and retired from decades of working, Dianne had reached a junction in her life, and was debating what her next step would be.
She decided to begin a journey toward better health, a path that soon opened doors for her and her family that she never knew existed.
Business Within Retirement
Although she didn't have a concrete plan set in place, she did know that she would end up being a "sugar grandma." Dianne hoped to find a way to be financially able to do more fun activities with her husband, children, and grandchildren.
Fortunately, her daughter-in-law, Kristie, introduced her to Isagenix. Dianne began her first 30-Day System and continued following that regimen over the next several months, ultimately losing 40 pounds and 58 inches* and feeling better than ever.
After Dianne's success with the products, Kristie didn't have too much trouble convincing her mother-in-law to attend a couple Isagenix events. Dianne accompanied Kristie to a Super Saturday and an Isagenix University and Dianne was once again pleasantly surprised by Isagenix.
"I really liked the people," she remembers. "They were so positive and excited about everything. It fired me up! I was looking at my 60s and I was retired, so I thought this might be a good fit."
'The Speed of a Glacier'
Dianne began her Isagenix business with 1 cycle, earning $54 per month, in June of 2013. She implemented a strategy that worked for her personally and for her team.
"I learned to get 'two people ten deep, instead of ten people two deep,'" she shares. "I work with two people at a time. My goal is to get them to their goal."
She passionately spreads the word about Isagenix, and doesn't mind if focusing on two people means she's moving at a slower pace. Her patience has paid off. Now, her husband supports her every step in her Isagenix business, and she has reached her "sugar grandma" goals and more.
"It doesn't matter how slow you go," shares Dianne. "It's been a joke that I move at the speed of a glacier. I'm still going places. The speed of a glacier got me here–never ever give up."
Aging Gracefully
For Dianne, healthy aging means, "I have purpose. I have a clear mind. I have a new focus. And a whole new retirement plan."
Many of the members on Dianne's team are in their 60s, 70s, and 80s,–including her parents—and the 61-year-old is more than happy to cater to the healthy aging demographic.
Even Dianne's husband of 41 years, Mark, joined Isagenix with excitement in his 60s, Mark builds houses—including homes he built with his son for their families.
"My husband is older than I am and he still works physically," says Dianne. "He used to crawl out of the truck at the end of the day. Now he still has energy to do something else."
With their favorite products in hand, including Product B® IsaGenesis®, IsaLean® Shakes, and Replenish™, Dianne and Mark are currently taking part in the IsaBody Challenge® with the goal to incorporate a fitness routine into their schedules.
Dianne says that with Isagenix, "you have the energy to do everything. Your mindset is different. Because you physically feel good, you mentally feel good, so you can set goals knowing you're going to get there."
For more inspirational healthy aging stories, visit IsaFYI.com/Recognition.
*Weight loss should not be considered typical. In a study performed in 2012 by University of Illinois at Chicago researchers, subjects lost an average of 9 pounds with an average of 2 pounds of the loss from visceral fat after 30 days on an Isagenix system. The subjects also had a greater level of adherence and had more consistent weight loss from week to week compared to subjects on a traditional diet.
Earning levels for Isagenix Independent Associates depend on time and commitment and may vary. For more information visit IsagenixEarnings.com.