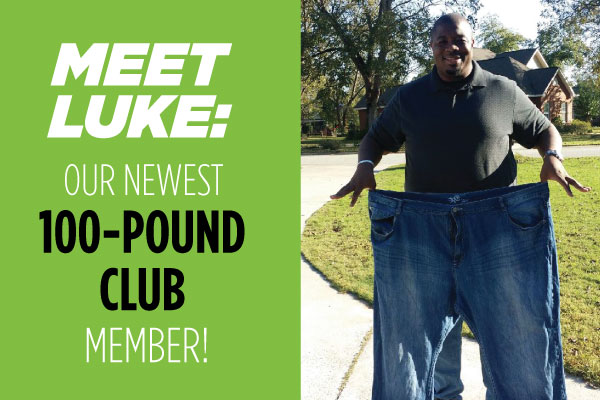 "Unless you've weighed 400 or 500 pounds, it's hard to understand what it feels like," describes 39-year-old Luke, whose peak weight was once 485 pounds in November 2013. "Because it's more than just being heavy. It's the way people look at you. It's the things that people say to you and it's very hurtful."
Luke knows that others are coming from a place of kindness, but most don't realize the deep "underlying factors" that cause someone to become overweight.
In March 2013, Luke's dad and best friend was diagnosed with terminal cancer. The doctors gave him only weeks to live, and a month later, Luke's father passed away.
Of course the loss of his father was a staggering blow to Luke—losing his role model led Luke on a destructive path of stress-eating that he had adopted years before as a truck driver constantly eating fast food on the road.
Following his father's footsteps as a factory worker, Luke quit his job as a truck driver and began working 12 to 16 hours every weekday. Slowly, Luke was gaining more and more weight and found himself in a "daily rut" while supporting his family and raising two young daughters.
But today, Luke wants to be a role model to his girls and wife Sonia. That's why he set the goal to find a support group, and lose 100 pounds.
The Road to the 100-Pound Club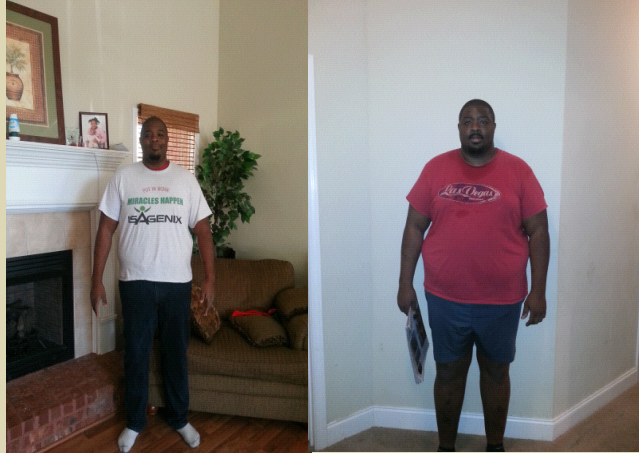 Before Isagenix, Luke had been on 12 to 15 "diets," but he would lose—at most—just 20 pounds.
It was then that Luke had considered gastric bypass surgery, but a good friend passed away from that specific surgery. Obviously, gastric bypass then wasn't an option for Luke.
Clearly, he knew it would be hard work to lose the weight gained by years of stress, but it would be worth it. Luke found himself online pursuing different solutions toward better health. That's where he met his Isagenix sponsor, Johnnie; someone who he keeps in touch with daily, even now.
"I found Johnnie's Facebook page for Isagenix and something clicked for me when I read about the company and their solutions," says Luke. "I had found a support group of like-minded individuals who had experienced similar weight-loss journeys. We shared emotional stories, we supported each other by sharing better eating habits and workout tips—they're my friends, my support system."
Johnnie introduced Luke to the 30-Day Fat-Burning and Cleansing System. Even better, Luke works out three to five days a week with his friend Wendell—someone he met online and hopes to join the 100-Pound Club with Luke soon.
"Before Isagenix, I was always tired, depressed, and sleepy," describes Luke. "I was not active besides working those long shifts at the factory and weeks went by where I was just working and sleeping. Today, I have an abundance of energy, work out at least three times a week, and can now play with my girls, and fully enjoy life with my wife Sonia!"
And in September 2014, Luke joined the prestigious 100-Pound Club. Luke now weighs 355 pounds and has high hopes to make it to the prestigious 200-Pound Club in 2015 with the help of his Isagenix family.
Get to Know Luke
What's your favorite workout "power song?"
It would have to be Jay-Z's "Hard Knock Life."
What's your favorite workout?
I make it a priority to work out at least three times a week, so I walk and run mostly. However, when I do cardio, it's mostly with light weights as I'm starting to lose the most stubborn fat.
 What's your favorite "mix" on an Isagenix shake?
One scoop of IsaLean® Creamy French Vanilla and one scoop of IsaLean® Creamy Dutch Chocolate.
What's your favorite tip for those starting out and losing weight… even if they see it as painstakingly difficult?
Make a list and write out why you want to lose weight in the first place. If there's an excuse in there somewhere, turn it around into a positive—because you can do this. Also, don't avoid the scale…That was my first problem—and although I don't think you should focus on the numbers, when you're initially losing a lot of weight it gives you a good benchmark of where you should be.