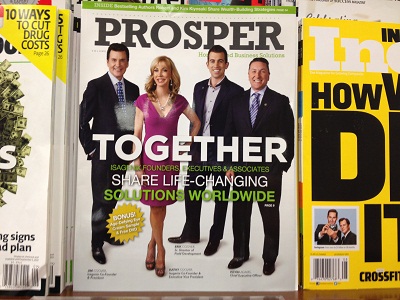 Isagenix® is thrilled to be featured in Prosper magazine for the fourth consecutive year with the entire issue dedicated exclusively to our Solutions to Transform Lives™.
Available at IsaSalesTools.com, Barnes and Noble, and select Target and Walmart stores, this nationally distributed magazine provides third-party validation of the powerful business opportunity and industry-busting products available through Isagenix.
Within the pages of this full-color, glossy publication, you'll read about the company's Founders and Executive "Dream Team" and what they are doing globally as well as at Isagenix World Headquarters; familiarize yourself with more than150 Associates, including those who have become Isagenix Millionaires through the company's business opportunity; read stories about how professional athletes fuel their bodies with Isagenix and learn how to transform your life, both physically and financially.
Want even more good news? Isagenix is including a sample of the new Rejuvity® Age-Defying Eye Cream, part of the breakthrough Rejuvity Skincare System™, and also a DVD featuring short movies on its products and business opportunity as a special gift to you. Plus, Prosper magazine can also be found inside the Launch Party Kit, the perfect addition to your next in-home event.
Prosper even guarantees this tool will help take your business to the next level! They are so confident in this tool's ability that they're taking the next step and offering a money-back guarantee. For complete details, watch this video.
http://www.youtube.com/watch?v=4lM-OVzSih8&feature=youtu.be
To purchase your copies of Prosper magazine, visit IsaSalesTools.com.