When it comes to promoting, marketing, and growing your Isagenix business, taking advantage of social media is a must, and it's not something just for the millennial generation. Although nothing can truly replace face-to-face conversation that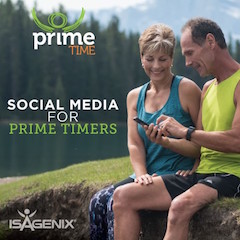 baby boomers value, there are very effective social media methods that can complement the in-person contact.
Network marketing master Eric Worre recently wrote about the power of social media, discussing how it can help you reach out to potential, new Customers, grow your team, and build your business. Worre states that although at first he was hesitant to use social media to enhance his business, he eventually came around, realizing it can be a valuable tool that will help you expand your reach, strengthen relationships, and help you build your brand.
Here, we've compiled some effective ways to connect with your peers on social media.
Entertain, Inspire, and Evaluate
Prime Time member and 2-Star Golden Circle, 1-Star Crystal Executive Kaylin Hobbs found great success connecting with new people on Facebook and offers helpful tips for using social media to enhance your Isagenix business.
"Always remember that social media is entertainment," she said. "If you are boring people, they will tune out."
Kaylin advises taking a step back and evaluating how your audience is reacting to your posts, and determining if the posts reflect who you are. This can help you understand what your network is interested in and what inspires them. If a post receives a lot of engagement, do more of those; if a post doesn't get a strong response, hold back on doing another post like that.
"It's like anything in life," Kaylin said. "We have to constantly review to figure out what's working and what's helping us toward achieving our goals."
Most importantly, you want your audience to be inspired to take action.
Making Authentic Connections
Prime Time member and 4-Star Golden Circle, 1-Star Crystal Executive Cindy Franco uses her social media platforms to connect with others. For Cindy, it's all about finding people who she has something in common with and who she can help. First, Cindy connects with ten to 20 new people each week on Facebook; she stresses the importance of making sure the people you are adding to your network are positive and the type of people you want on your team.
When it comes to making meaningful connections with your prospective Customers on social media, being genuine and truly interested in their lives is key. Your connections on social media can help your prospective Customer feel more comfortable with you and may even help you get to know them better.
Cindy has a few helpful tips for developing a meaningful connection:
1)   If you see a post on their feed that you like, or can relate to, leave a comment.
2)   Send your new friend a private message sharing what you enjoyed about their social media page.
3)   Be real and genuine, with an honest motive to get to know them better.
Cindy finds that some of her most attention-grabbing posts are when she shares her own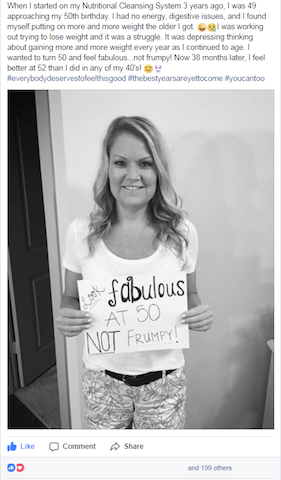 transformation, not because it's a dramatic transformation, but because it's her own personal experience. Sharing your own experiences in photos and videos can make you relatable to others and helps people feel connected to who you truly are.
Opening the Door for Dialogue
The most powerful technique Cindy uses is voice messaging through Facebook Messenger, because when people hear her voice, they can feel the enthusiasm that she has for Isagenix. She uses this with people who ask questions when she posts her transformation pictures. Because they commented, she knows that they are drawn to her transformation, so she will reach out and start a conversation to find out why. If the person expresses an interest in starting their own transformation, she asks questions like "What types of weight loss programs have you used in the past?" or "Why did you stop using other weight loss programs?" This opens the door for dialogue and helps Cindy learn how Isagenix could help them achieve their goals.
Cindy has found that using these techniques consistently leaves the door open for her new social media friends to come to her, and they do.
"If they come to me and say, 'what is this nutritional cleansing you're talking about?' I tell them 'thanks for reaching out, I'd love to share my program with you.'"
From there, Cindy asks if she can plug them into additional resources or if she can send them info via Facebook Messenger.
Understanding the powerful tool that social media can be is the first step to making new friends and building relationships, but it doesn't replace personal contact and speaking with someone face to face. It can be the first important step to opening the door for in-person dialogue, and in turn, helping your business grow while you help others change their lives.