Jumping in Feet First Has Its Perks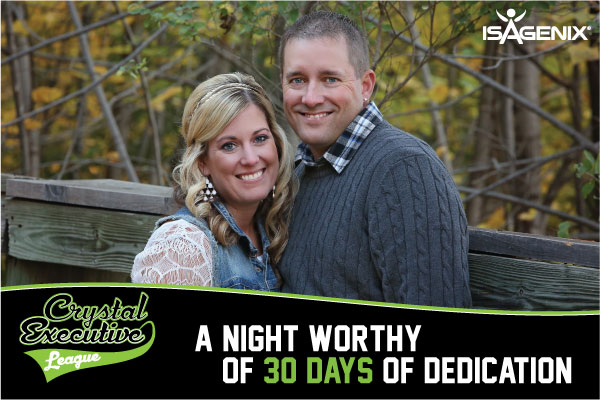 When Michelle booked her and Chris' 10-year anniversary and vow renewal for the following year, she felt uncomfortable with her weight and decided that it wasn't congruent with her career as a nurse. When she saw a friend posting about Isagenix on Facebook, she jumped on board right away. She ended up having a great experience with the products and released some weight.
Happy with her results, Michelle shared her transformation with family and friends and started to earn an income without fully understanding the Isagenix Team Compensation Plan.
"I never spent any of it, because it was one of those things where I kind of thought it might be an accounting error," she laughed.
As a nurse, Michelle's hospital had recently undergone leadership changes, and she was asked to start working holidays and weekends, in addition to taking a pay decrease. After deliberation, she decided to look into the income she had earned with Isagenix. She reached out to Customer Care to learn more and make sure there hadn't been a mistake.
Customer Care connected Michelle to some of the business builders in her support team, and when she reached out to the Executive above her, they convinced her the best way to learn about Isagenix was to attend an event.
"I asked when the next event was, and it was that weekend," remembered Michelle. "So on Monday, I booked my ticket, and by the end of the week, I was at Celebration."
Unwavering Belief and 30 Days of Dedication
At that event, Michelle was introduced to an entirely different world that she had no idea existed. Excited about the opportunity, she came home and took a look at the Compensation Plan with Chris. Together, they decided it was worth devoting time to, and Michelle got started building their business.
"I took the time to map out my plan and would carry around my map on how I would reach Executive status," said Michelle. "I had like five of them going and would really strategize each enrollment and where each new Customer should go."
Michelle worked toward her goal with urgency and reached Crystal Executive status after Celebration.
"It takes a lot of work and a lot of sacrifice to dedicate that entire 30-day block of time, but it was worth it for me," said Michelle. "I don't know that I have any strategy that's super unique. I just have so much belief in this company, the products, and my team."
A Night Worthy of Hard Work
The next time Michelle attended Celebration, she and Chris attended together as Crystal Executives.
"The Crystal Rally Reception was my favorite event within the event," said Michelle.
As a sports fanatic, she loved the baseball theme as well as the intimate and interactive aspects of the event.
"It's a great opportunity to talk with the Coovers and other leaders. Having that recognition and seeing your name up on the wall is so motivating; it's something I think everyone should work hard to experience," shared Michelle.
Enjoy the Perks of Being an All-Star
With the Crystal Reset promotion currently running, Associates have until July 12, 2017, to rank advance to Crystal Executive and enjoy all the perks of the Crystal Executive League. As a qualified Crystal Executive, you will receive two complimentary tickets to the exclusive Rally Reception on August 7, a one-of-a-kind award, and early access to the event. Team members can even purchase tickets in their Back Office to come cheer you on as you celebrate with fellow achievers. Check out the recap from our 2016 event; it's a night you won't want to miss!
For more information on Crystal Reset or the Rally Reception, visit IsaFYI.com/Recognition.