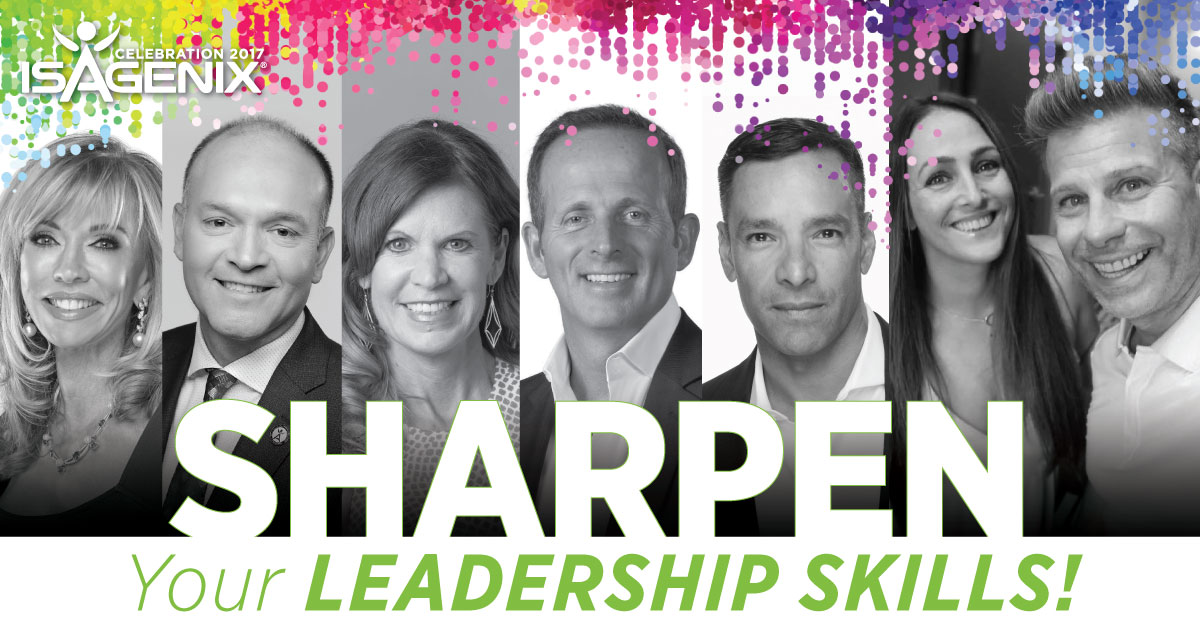 As a successful network marketing professional, you understand the importance of staying plugged in to current industry trends and constantly developing new skills and strategies. That's why Isagenix Leadership Meetings are key to maintaining a strong, progressive business!
Associates ranked Executive and above are invited to join like-minded business professionals at the Leadership Meeting at Celebration 2017 in Las Vegas Sunday, Aug. 6, 2017 from 1 to 5 p.m. This meeting is designed to support you as you advance your business and lead your team down the road to success. You do not want to miss this opportunity to receive in-depth leadership and network marketing training from a team of amazing trainers who will boost your personal and professional development to a whole new level.
Associates in attendance can expect to:
Learn the psychology of extraordinary leadership.
Discover how to lead with a conscience, especially when no one is watching.
Master the five critical skills of impactful leaders.
Hear common leadership myths dispelled.
Receive tips to better develop leaders within your team in the 21st century.
And more!
This meeting is going to shift the way you build your business and coach your team members to build theirs. And the best part is, this training is FREE for all Associates ranked Executive and above with a Celebration ticket! Associates who qualify will receive a wristband upon check-in to be used for entrance to this training. To ensure qualification for this wristband, be sure to purchase your Celebration 2017 ticket through your Executive or above business center by the online registration deadline of July 23, 2017.
Meet Your Leadership Meeting Trainers
Kathy Coover, Isagenix Owner
In 1990, Kathy Coover left her career as a dental hygienist in search of a way to spend more time with her family and contribute to others on a greater scale. Kathy went on to become a top earner in three separate network marketing companies, generating millions in income and helping tens of thousands of entrepreneurs achieve success. Remaining focused on her aspirations to positively impact the lives of others, Kathy joined her husband, Jim, and together they co-founded Isagenix. They set out to build a network marketing company that would be different than all the rest, founded on integrity, passion, and collaboration. Kathy is a nationally recognized and respected leader who has translated her personal successes into training and support systems that have helped create physical and financial freedom for countless Isagenix Associates.
David T.S. Wood, Isagenix Strategic Training Consultant
Recognized as one of the world's leading personal development trainers, Jim and Kathy Coover invited David in 2007 to partner with them to assist in developing world-class programs, trainers, leaders, and culture for Isagenix. David works closely with Isagenix Associates to develop the belief, expectations, and skills necessary to become professional network marketers. He has lived, traveled, and worked in more than 60 countries and has grown several million- and multimillion-dollar companies. Known for his uncanny ability to read his audience and move people to the next level in their lives, his programs are exciting, engaging, and fun. David is enthralled to take the stage at the Leadership Meeting to share his blueprint for effective leadership with attendees.
Herb Cepeda, Isagenix Millionaire,* 19-Star Platinum, 21-Star Crystal Executive
After joining Isagenix in 2007, Herb excelled in the business with his beautiful wife, Patty, by his side. His tremendous ability to help people achieve more than they ever thought possible and break down barriers they perceive exist has helped him build one of the fastest-growing teams in Isagenix. As one of the top income earners worldwide, this Isagenix Millionaire and former Isagenix Man of the Year recipient is a sought-after motivational speaker and presenter that captures and motivates people to action. Herb's enthusiastic, energetic personality is contagious, and he has the innate ability to capture an audience and instruct people to soar up to heights they never imagine. Through his training at the Leadership Meeting, he aims to empower attendees to believe in themselves and their abilities to reach success with this business.
Rob & Kim Murgatroyd, 4-Star Golden Circle, 2-Star Crystal Executives
As owners of a chiropractic practice, Rob and Kim had been approached by many network marketing companies in the past and were skeptical when their friend Cathy Savage initially shared Isagenix with them. But after 23 years spent in the healthcare industry, the couple desired to build a new future – one where they could dedicate more time to their two daughters and give them a good life. After three years of saying no, Rob and Kim decided to give Isagenix a chance and jumped full throttle into the products and the business. Now, this powerhouse couple is achieving their dream of earning a location-independent income so they can live and work anywhere. Rob and Kim join the stellar lineup of Leadership Meeting trainers to ignite your passion for pursuing your dreams and living life on your own terms. They can't wait to share key activities you can do every week to help you and your team maximize the Isagenix Team Compensation Plan and how to avoid the common pitfalls of leadership.
Travis Garza, Isagenix Chief Sales and Marketing Officer
With over a decade of experience in sales leadership and extensive experience in the network marketing arena, Travis is responsible for field development, sales promotions, and marketing strategy at Isagenix. He has traveled all over the globe to help drive results and has successfully helped take Isagenix from a startup to a multimillion-dollar company. Travis is passionately dedicated to helping Customers succeed and is ready to guide Leadership Meeting attendees to implement new strategies and tools that will help them achieve their physical and financial goals.
Kristina Swift, Vice President of Sales, North America
Through over 20 years of network marketing experience in sales and operations management in both the U.S. and Canada, Kristina has learned firsthand what is strategically needed for each department to cohesively work together and grow a thriving, successful company. That breadth of knowledge has helped her develop a proven track record for achieving top-line sales objectives and revenue growth as an executive. This active runner, health enthusiast, and mother of one is passionate about equipping our business builders with the knowledge and tools they need to create the life they desire. She joins us at the Leadership Meeting to get you fired up for all the exciting incentives and events coming this fall and show you how you can take full advantage of them to expand your business.
If you don't want to miss this exclusive Leadership Meeting, PLUS all the action, fun, and training in store for you at Celebration 2017, head over to IsagenixCelebration.com to register. Tickets are going fast as this event sells out! We encourage you to buy yours now!
*An Isagenix Millionaire is an Independent Associate to whom Isagenix has paid a gross total of $1 million or more since joining Isagenix. Earnings reflect gross amounts that do not include any business expenses. The ability to earn income under the Isagenix Compensation Plan depends on many factors including an individual Associate's business, social, and sales skills; personal ambition and activity; availability of time and financial resources; and access to a large network of family, friends, and business contacts. Isagenix cannot and does not guarantee any particular level of earnings. Even Associates who dedicate a significant amount of time, effort, and personal funds may not achieve a meaningful level of success. For average earnings, refer to the Isagenix Earnings Disclosure Statement at IsagenixEarnings.com.