Looking for a great gift for the person who has everything? You can't give the gift of time, but you can give them the gift of healthy holidays with Ageless Essentials™ with Product B® IsaGenesis®!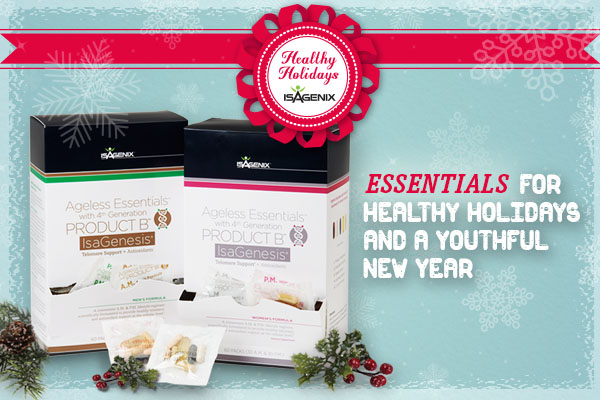 This 30-day supplement includes superior healthy aging and whole-body nutritional support. Featuring the newest fourth generation of Product B for greater cellular and telomere support, Product B provides a full spectrum of vitamins, minerals, omega-3s, and antioxidants.
IsaGenesis is the fourth generation of Product B, our powerful solution for healthy aging. We are always striving to improve our products and IsaGenesis represents a big step forward in healthy aging.
IsaGenesis has more powerful antioxidant support to help you fight the free radicals that accelerate aging. The newest formula contains 20 percent more active ingredients including botanicals that support liver, kidney, and brain health.
The active ingredients in IsaGenesis can only benefit you when they are absorbed efficiently. We added more effective carriers to ensure your body absorbs IsaGenesis better and faster.
Vegans and vegetarians: Add another product to your list! IsaGenesis uses a new, easy-to-swallow softgel capsule that contains no animal product.
Best of all, we kept the same dose. So you don't have to take more to get more.
Order your Ageless Essentials with Product B IsaGenesis in your Back Office today for $140 (95 BV).
These statements have not been evaluated by the Food and Drug Administration. These products are not intended to diagnose, treat, cure, or prevent any disease.