Fifteen years ago, when Ernie De Minico tried the Isagenix 9-Day System for the first time, he was hooked. The 47-year-old personal trainer immediately became an avid Isagenix product user. That same year, Ernie's wife, Nadia, was eager to lose weight and embarked on her own Isagenix journey. With hard work and determination, Nadia successfully lost 70 pounds.* To this day, the powerhouse couple, along with their two teenage children, use Isagenix products daily. Ernie and Nadia are now focused on growing their Isagenix business and are setting their eyes on rank advancing to 3-Star Crystal Executive.
New Business Focus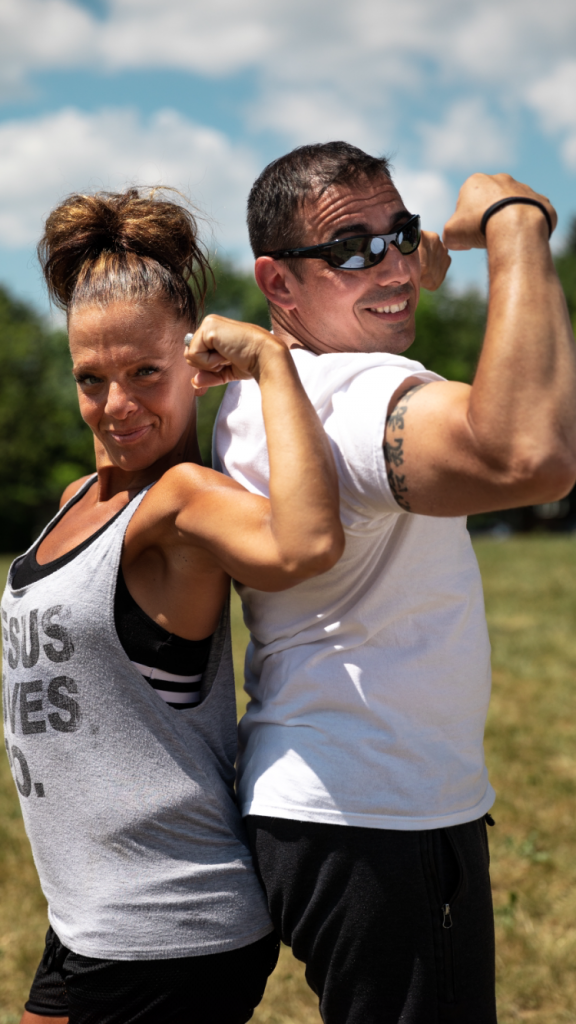 Ernie and Nadia have been fortunate to find early success in the health and wellness industry. Ernie has been a certified fitness trainer for 26 years, and Nadia is an experienced dance fitness instructor. The couple owns and operates a lucrative personal training business in Montreal, Quebec. Ernie has been instrumental in helping individuals reach their health and wellness goals and has taken the opportunity to talk to his clients about the benefits of Isagenix products such as IsaLean™ Shake, Ionix® Supreme, and Cleanse for Life™.
"I can speak from experience about these amazing products and how well they work," said Ernie. "I've already established credibility among my clients who listen to and trust my recommendations."
About a year ago, Ernie and Nadia decided to prioritize their Isagenix business to earn a second source of income and become more financially secure for the future.
"I'm approaching 50," Ernie said. "I don't want to be a personal trainer forever."
As established business owners, Ernie and Nadia's decision to grow their Isagenix business came easy.
"We already work hard and have earned a six-figure income** with our personal training business and Isagenix business combined," Ernie says. "Now, we want to become Isagenix Legacy Club members and expand the Quebec market."
Sharing Their Passion
On a recent night out to dinner, Nadia began striking up a conversation with a woman at a nearby table. After talking for only a few minutes, Nadia and the woman quickly discovered they shared a passion for fitness and Pilates.
"I told her how Isagenix helped me lose 70 pounds*," says Nadia. "She was intrigued and wanted to learn more."
That's when Ernie stepped in and asked the woman for her phone number, so he could send her some Isagenix videos, using his IsaTools™ app.
"I didn't go into a lot of detail at the restaurant because I didn't want to overwhelm her with too much information," Ernie says. "She called me the next morning to place an order."
A Fire Ignited
After attending Global Celebration 2018 in Nashville, Ernie and Nadia left feeling even more inspired to take their Isagenix business to the next level.
"We walked away with a lot of best practices shared by some of the incredible Isagenix leaders and are directly applying those tools to our business," Ernie says. "We're putting the pedal to the metal."
Determined to become Isagenix Legacy Club members, Ernie and Nadia want to eventually scale back from their personal training business. They are currently working toward qualifying for the Dash to Disney promotion and hope to achieve 3-Star Crystal Executive by Global Celebration 2019.
"We want to continue to share our passion with others," Nadia says. "We are committed to showing people the value of Isagenix from both the health and wellness and financial perspectives because we truly care about helping people achieve complete freedom. It's life changing!"
*Results not typical. Weight loss, muscle gain, lifestyle, and other results depicted here reflect exceptional individual experiences of Isagenix Customers and should not be construed as typical or average. Results vary with individual effort, body composition, eating patterns, time, exercise, and other factors, such as genetic and physiological makeup. In a two-phase study performed from 2015-2016 by Skidmore College in New York, researchers evaluated use of Isagenix products for weight loss. As part of the weight loss phase, the participants took part in a calorie-controlled regimen of Shake Days and one Cleanse Day per week and lost an average of 24 pounds after 12 weeks. View the study results. 
**Earning levels or income statements (including claims such as the ability to quit a job or stay at home or portrayals of luxury lifestyles) for the Isagenix Independent Associates discussed here exceed the average results achieved by all Associates during the same time period, are not necessarily representative of the success or compensation that any particular Associate will receive, and should not be construed as typical or average. The ability to earn income under the Isagenix Compensation Plan depends on many factors including an individual Associate's business, social, and sales skills; personal ambition and activity; availability of time and financial resources; and access to a large network of family, friends, and business contacts. Isagenix cannot and does not guarantee any particular level of earnings. Even Associates who dedicate a significant amount of time, effort, and personal funds may not achieve a meaningful level of success. For average earnings, refer to IsagenixEarnings.com.
If a media outlet approaches you about sharing your success story, please contact media@isagenixcorp.com. A designated company spokesperson will help you evaluate the opportunity and can provide media training so you have the best experience possible."