Drumroll, please! It's finally time to reveal one of the most exciting segments to hit the stage at Global Celebration 2018. That's right, it's time for our 2018 IsaBody Challenge® Grand Prize Winner and Runner-Up!
Since starting with just 200 completions in 2011 to reaching more than 46,600 completions in 2018, we still can't believe how far this Challenge has come (seriously – somebody pinch us!).
We're incredibly proud of how many lives the IsaBody Challenge has changed and can't wait to see where it takes us with such amazing people representing it, like the two we announced today. Together, they will be the face of the IsaBody Challenge for the next year and will speak at training sessions and Isagenix events across the U.S.!
Now, The Big Reveal…
Without further ado, please meet our 2018 North American IsaBody Challenge Grand Prize Winner and recipient of US$25,000, Mark Ostrowski!
A devoted husband and loving father of three, Mark has dedicated his entire life to lifting people up and helping others whenever he gets the chance. From helping the new kid at school feel welcome as a young student to seeking justice for victims of violence as the Assistant State's Attorney, Mark is truly a champion for others.
He would do anything for anyone and would do whatever it takes to help his wife and kids reach their dreams. Eventually, though, he realized he had lost sight of his own. With the IsaBody Challenge, Mark has completely changed his life in the last three years.
"For the first time, I became a champion for me," he said.
And now, Mark is our grand prize winner of the 2018 IsaBody Challenge!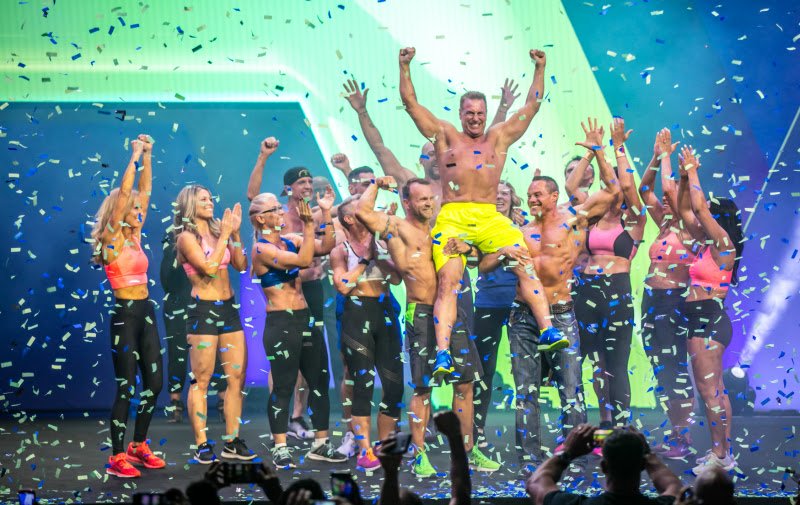 The recipient of US$10,000, the IsaBody Runner-Up supports the IsaBody Grand Prize Winner as a spokesperson for Isagenix and the IsaBody Challenge, spreading the message of body and lifestyle transformation across the globe.
Our 2018 North American IsaBody Challenge Runner-Up is Tara McGinty!
A few years ago, Tara was in the darkest place of her life. A lifetime of being overweight combined with a series of health issues left her exhausted, and she was tired of losing weight only to gain it all back. Deciding she wanted to make a lifestyle change, Tara found Isagenix and the IsaBody Challenge and changed her life dramatically.
Now, after releasing more than 100 pounds* and gaining the confidence she never knew she had, Tara says her inside matches her outside, and she's so grateful for what she has accomplished.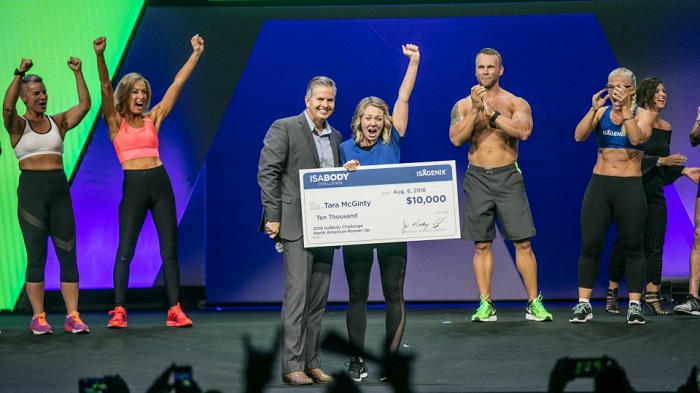 Congratulations to All Our 2018 IsaBody Winners
Employee IsaBody Challenge Grand Prize Winner
Congratulations to our 2018 Employee IsaBody Challenge Grand Prize Winner!
Brennan Gerle
Queen Creek, Arizona
Total weight loss: 22 pounds*
International IsaBody Challenge Grand Prize Winners
Congratulations to our International IsaBody Challenge Grand Prize Winners!
Ninfa Nava
Mexico
Total weight loss: 84 pounds*
Adriana Ramirez
Colombia
Total weight loss: 32 pounds*
Laura Hallett
United Kingdom
Total weight loss: 23 pounds*
Claudia Tomczyk
Australia
Total weight loss: 32 pounds*
Wong Kam Fai
Hong Kong
Total weight loss: 5 pounds*
Ashley Lim
Singapore
Total weight loss: 8 pounds*
Calvin Tjahyadi
Indonesia
Total weight gain: 9 pounds* of lean muscle
Coach Tan
Malaysia
Total weight loss: 13 pounds*
Peter Hung
Taiwan
Total weight loss: 53 pounds*
See Yourself Onstage Next Year!
Inspired by these incredible stories, and ready to see yourself onstage as an IsaBody Finalist?! Register for the IsaBody Challenge today, and discover how you can transform your life in 16 weeks.
*Results not typical. Weight loss, muscle gain, lifestyle, and other results depicted here reflect exceptional individual experiences of Isagenix Customers and should not be construed as typical or average. Results vary with individual effort, body composition, eating patterns, time, exercise, and other factors, such as genetic and physiological makeup. In a study performed in 2012 by University of Illinois at Chicago researchers, subjects lost an average of 9 pounds with an average of 2 pounds of the loss from visceral fat after 30 days on an Isagenix System. The subjects also had a greater level of adherence and had more consistent weight loss from week to week compared to subjects on a traditional diet. View the study results.