Not All Bars Are Created Equal
The recent launch of AMPED™ Protein Bars has revved up popularity surrounding our bar offerings. This expansion has given us the opportunity to maintain our commitment to serve our Customers with standout products in the pursuit of overall health and wellness. AMPED Protein Bars and IsaLean® Bars are both a delicious, nutritious, and convenient option, but they are not one in the same as each bar supports different goals.
AMPED Protein Bars are designed to meet the nutritional needs of athletes and performance-focused individuals. IsaLean Bars are intended to be used as a meal replacement to satisfy hunger and support health and weight wellness goals.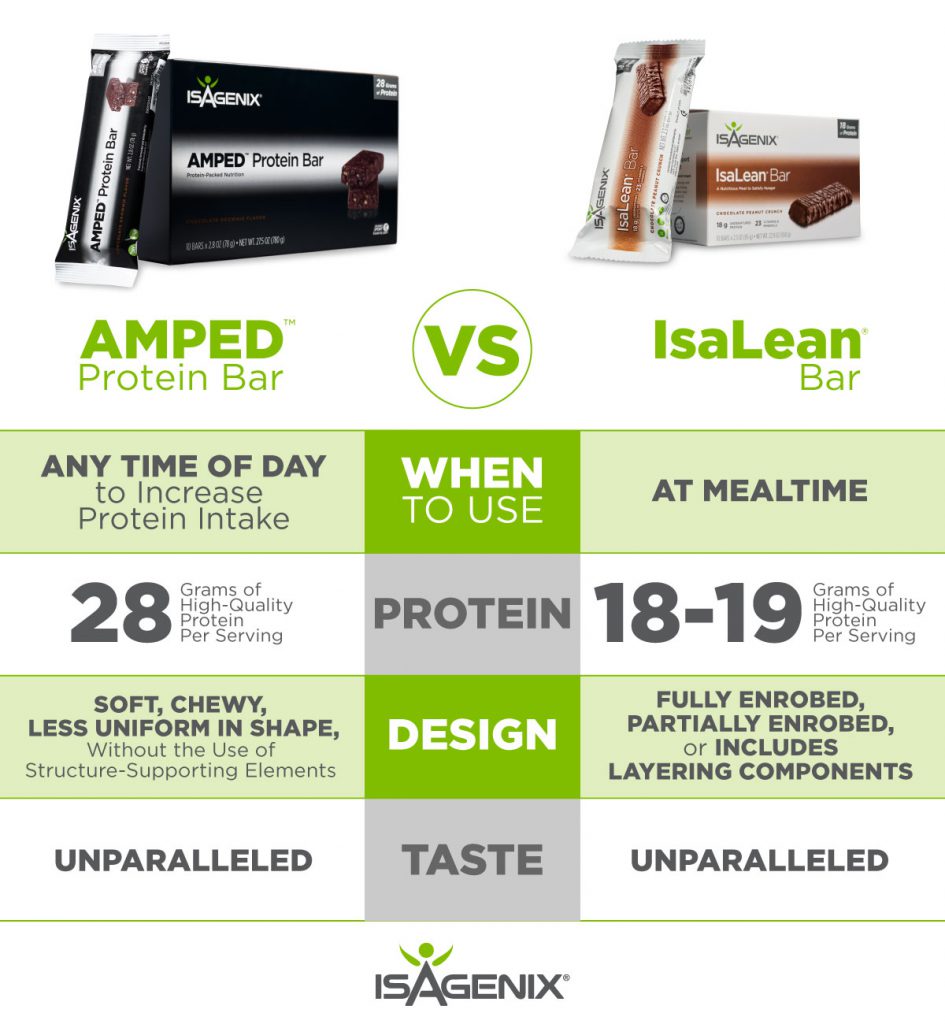 When to Use
IsaLean Bars are designed to have balanced amounts of nutrients that are representative of a meal to support weight wellness goals. These nutrients include protein, carbohydrates, essential fats, vitamins, and minerals.
AMPED Protein Bars are designed specifically for athletes who are looking to increase their protein intake and support their performance goals. It is also important to note that these bars are Informed-Sport certified and made without the use of artificial flavors, sweeteners, or soy protein.
Premium Protein in Numbers
Both bars can be used for protein pacing to support weight loss or performance goals. This effective method, explained by Dr. Paul Arciero,* is "the scientifically proven combination of eating protein at the right time of day to maximize health and performance." Incorporating these bars into your diet can have a positive and lasting impact on your weight loss or weight maintenance goals.
IsaLean Bars each contain 18-19 grams of quality protein from a whey-based blend, while the dairy-free options contain a plant-based protein.
AMPED Protein Bars contain 28 grams of quality protein from a whey-based blend, each offering the specialized support the body needs, depending on your desired goals. The 28 grams of protein in AMPED Protein Bars is the most protein of any Informed-Sport certified protein bar available.
Shape, Structure, and Texture
Due to their differences in nutritional design, IsaLean Bars and AMPED Protein Bars are vastly different in their shape, structure, and texture.
You'll notice the IsaLean Bar, depending on the flavor, may be fully coated, partially coated or include layering components.
 n order to achieve a higher level of protein in AMPED Protein Bars, they are not enrobed and do not have layers. Because they do not have these structure-supporting elements, AMPED Protein Bars may be less uniform in shape. Therefore, their texture is best described as soft and chewy. If you find your AMPED Protein Bar is soft or sticky, don't be alarmed! They are intended to be that way.
No matter your preference, you can feel confident knowing that both bars have been designed to meet the nutritional needs of those looking to support their health. Whether you're an elite athlete, or simply trying to maintain your weight, Isagenix is prepared to help support you and your goals every step of the way.
*Professor of health and exercise sciences and director of the Human Nutrition and Metabolism laboratory at Skidmore College.