This year we hosted nearly 5,000 Associates in our hometown of Phoenix, Arizona, for one of our most incredible and inspirational New Year Kick Off events yet.
Throughout this event, we recognized hundreds of hardworking men and women for their commitment to Isagenix and for the milestones they have reached.
Exclusive Receptions and Clubs
The event kicked off with our exclusive Top 50 Dinner at Talking Stick Arena, home of the Phoenix Suns. Invites were given to those who were recognized as the Top 50 Income Earners between November 2016-October 2017. It was certainly a night to remember, and no one deserved it more than these passionate leaders. Please enjoy this video we've created to recap the incredible evening.
Throughout this three-day event, attendees enjoyed even more exclusive perks in recognition of their hard work. 3-Star Golden Circle and above businesses were invited to join Isagenix Millionaires* Nathan and Trudy Maples for an exclusive Q&A session in Club Six. Here, attendees received free products, got photos taken at a headshot station, and enjoyed the perfect place to relax and unwind. Our A-List Platinum members took to their own hangout spot, the Platinum Lounge, for massages, exclusive gifts, and more.
Incredible Onstage Recognition**
Each year at NYKO, we have the pleasure of celebrating those who have reached huge milestones in their business. Onstage, this year we recognized 346 inspiring leaders in our 6-Figure Income Earners Club (businesses who earned between $100,000** and $999,999** during the 12-month time frame of November 2016-October 2017) and 24 inspirational leaders in our 7-Figure Income Earners Club (businesses who earned $1,000,000** or more during the 12-month time frame of November 2016-October 2017). These top leaders shared the stage with Redfoo from LMFAO who played "Party Rock Anthem" and "Sexy and I Know It!"
We also introduced 22 of our newest Isagenix Millionaires* who have cumulatively earned $1 million or more since joining Isagenix. Each of these extremely driven and passionate leaders were welcomed to the Isagenix Legacy Club, where they will be recognized for building a legacy with Isagenix.
| | |
| --- | --- |
| Joanna & Mike Cavalcante | Debi & Jeff Beebe |
| Arshma Zhao | Malcolm & Christina Muraay |
| Steven Livoti | Rachel & JT Thomas |
| Lisa Vanderspek | Heidi & Paul Burkemper |
| Delialah & Todd Lotich | Carol Stein |
| Kim & Arlin Stoltzfus | Lauren Petrovic |
| Jay Coburn | Mindy Schinnerer |
| Alex Hoffmann | Lara Leopaldi |
| Alejandra Arroyo & Alfonso Martinez | Bonnie & Price Futrell |
| Lynne Kemper and Mark Attix | Danielle & Marc Slugh |
| Lance Rivera | Bev & Maurice Dunphy |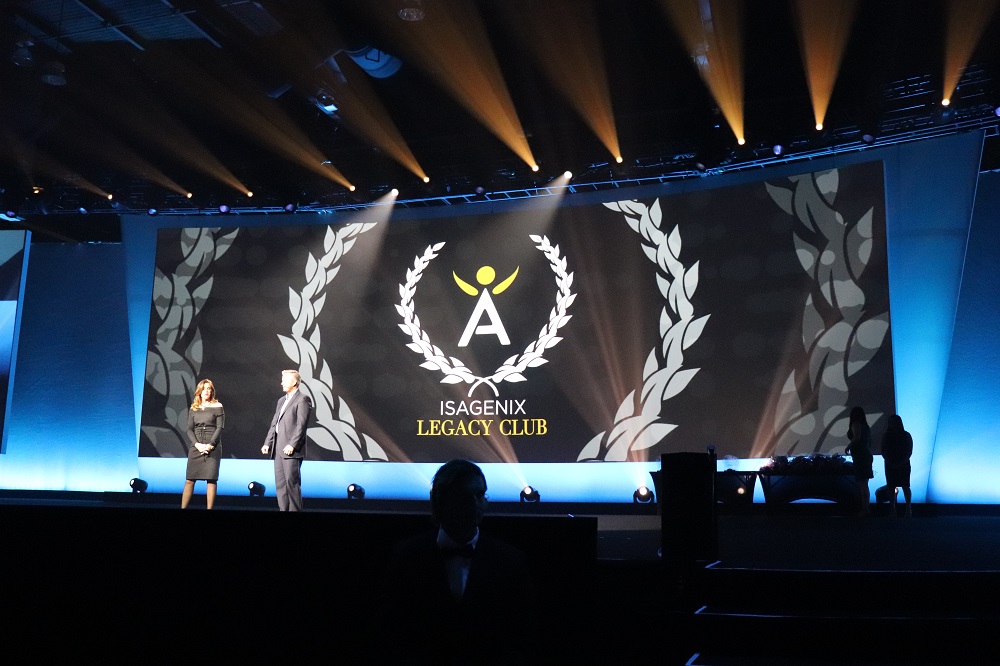 Last but least, we would like to recognize our incredible Heart of Isagenix nominees – Adrienne Donovan, Bob Duncan, and Laura Beynon. After countless hours of tallying up the votes, The Heart of Isagenix award went to Adrienne Donovan!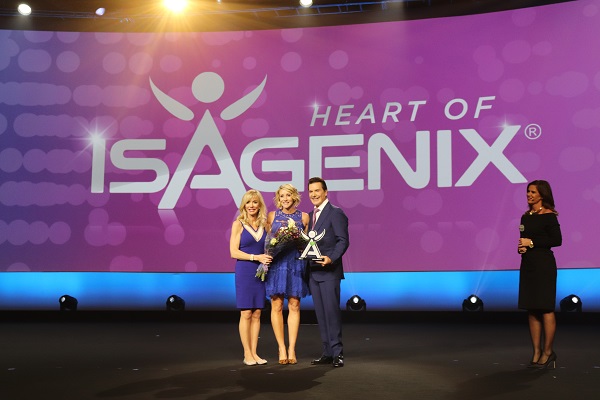 "A mom of three beautiful children, a loving wife, sister, daughter, and friend – Adrienne is the most phenomenal team leader I could ever pray for," said Amanda Smith. "She absolutely deserves this award as she has a heart to serve like none other."
We are so honored to have each of these Associates as a part of our Isagenix family and would not be where we are today without their unwavering passion for changing lives. To learn more about how you can be recognized at future events, stay tuned to IsaFYI.com/Recognition and join the Isagenix Recognition Facebook group!
*An Isagenix Millionaire is an Independent Associate to whom Isagenix has paid a gross total of $1 million or more since joining Isagenix. Earnings reflect gross amounts that do not include any business expenses. For average earnings of Independent Associates, refer to the Isagenix Earnings Disclosure Statement at IsagenixEarnings.com.
**Earning levels or income statements (including claims such as the ability to quit a job or stay at home or portrayals of luxury lifestyles) for the Isagenix Independent Associates discussed here significantly exceed the average results achieved by all Associates during the same time period, are not representative of the success or compensation that any particular Associate will receive, and should not be construed as typical or average. The ability to earn income under the Isagenix Compensation Plan depends on many factors including an individual Associate's business, social, and sales skills; personal ambition and activity; availability of time and financial resources; and access to a large network of family, friends, and business contacts. Isagenix cannot and does not guarantee any particular level of earnings. Even Associates who dedicate a significant amount of time, effort, and personal funds may not achieve a meaningful level of success. For average earnings, refer to IsagenixEarnings.com.