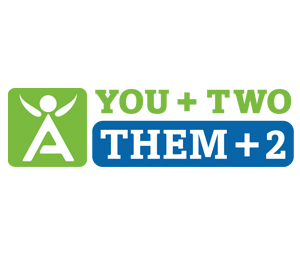 Do you "You+2?" If you do, then chances are you're raking in bonuses left and right!
Isagenix® believes in rewarding its Associates for helping others discover solutions for weight loss, energy and performance, youthful aging and wealth creation. That's why we added more than $10 million to the front of our compensation plan—so you can be rewarded immediately for doing the right thing!
So, how do you "You+2" to get your products paid for and then some?
Here's how it works:

Step 1: Become an Isagenix Associate, purchase 100 BV or more (try a system for the best results!) and set up your Autoship.
Step 2: Help two friends join Isagenix with a qualifying pak or system* within the same commission week (that's Monday through Sunday).
That's it! Now you're an Isagenix Consultant and you completed "You+2." Want to know what you'll earn? Here's the breakdown based on the President's Pak:
For helping two people join Isagenix (becoming a Consultant), you earn a Rank Advancement Bonus of $50
Next, for helping them join in the same commission week with a President's Pak, you get their Product Introduction Bonuses DOUBLED thanks to our Double Product Introduction Bonus promotion. That's $80 x 2 = $160 bonus for each person = $320!
So, within a week, you can grab $370 in bonuses to cover your product costs or pad your wallet simply for helping two people join Isagenix with the President's Pak.
To earn even more bonuses, check out the next step, "Them+2," which is simply teaching your new team members how to add two people, too!
Go to IsagenixBusiness.com for all the details and remember to "You+2 and Them+2." It's your formula for business success!
*Qualifying systems and paks: 30 Day Cleansing and Fat Burning System, Energy and Performance System, Kosher Pak, President's Paks,  Healthy Aging and Telomere Support System. Enrollments must be in 1 commission week. Monday-Sunday EST.