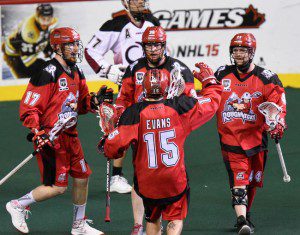 At 5'9" and 180 pounds, Team Isagenix athlete Shawn Evans' rise to superstardom in professional lacrosse is a feel-good story. But, don't compare him to characters like Rudy—the small-statured Notre Dame football player depicted in the popular motion picture film.
Rudy barely made the football team in 1974; Evans is the star player for the New England Black Wolves. Rudy never scored a touchdown; Evans holds the league record for most points scored in a season. Rudy never received accolades or awards after the season ended; Evans was last year's most valuable player. In fact, some experts in the sport consider him the best lacrosse player in the world.
But, the two share perhaps the most important characteristic in sports—heart. Every game, Shawn Evans manages to come out on top even though he's competing against players who are big enough to cast a shadow on him, and wins.
"I go against guys who are 6'5" or even taller, and I'm the one dominating them," says Evans. "I was always told that I couldn't do things because of my height, and I use that as motivation to persevere and prove to everyone and myself that I'm going to do it."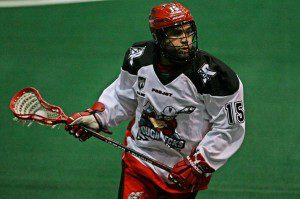 But, it isn't just heart that drives his success. Every detail of his training routine and nutritional regimen has to stay on point for Evans to be competitive. That's why he chooses Isagenix to fuel his performance through the next chapter of his career. With the latest release of the AMPED™ performance line, Evans has the tools to attack every angle of his workout and dominate on the lacrosse floor.
"I'm never satisfied with where I'm at," he says. "I want to be faster, more explosive, and improve my fitness from every angle. I love using AMPED products and e+™ during my workouts. The products just have what I'm looking for in a nutritional system."
So, what does a National Lacrosse League champion and most valuable player aim to accomplish next? For Shawn Evans, the only direction to go is up. He started a new chapter with the New England Black Wolves this season, a team poised to make a run at the Champions Cup with the reigning MVP leading the way.
Off the floor, Evans is dedicated to helping young athletes learn the game, which is growing quickly in North America, through his organization Team Evans 15. But, he's not just building better lacrosse players; Evans wants to help university athletes develop better health and overall lifestyles.
"There's so much you can do to better other people's health and help them achieve their goals," says Evans. "Hopefully, my hard work rubs off on others and helps them to do the same. I want to be a leader and help out as much as I can."
You can watch Shawn Evans and the New England Black Wolves play online at NLL.com and learn more about Shawn and the rest of Team Isagenix at TeamIsagenix.com.