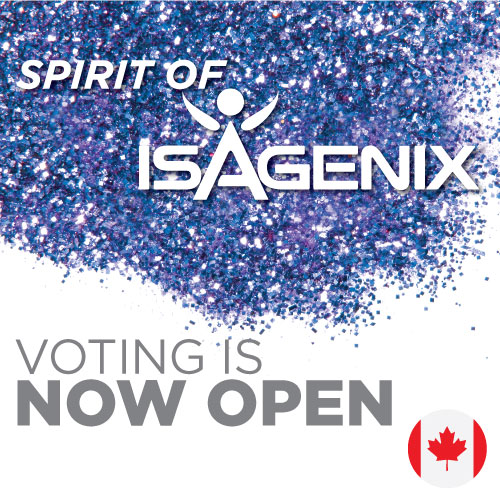 They've got spirit, yes, they do!
These phenomenal Isagenix Associates were nominated for this prestigious award because of their passion and enthusiasm for changing lives. We've narrowed down the list to the top three, and now it's time for YOU to choose our 2018 Canadian Spirit of Isagenix winner.
Our finalists were selected because of their extraordinary leadership and because they truly exemplify mentorship, loyalty, and spirit. Vote now through March 11. The Canadian Spirit of Isagenix award will be presented onstage at Canada Celebration 2018 in Vancouver!
Meet the Finalists
Bob Scanland
British Columbia
"Over the past eight years, my wife and I have developed a wonderful friendship with Bob and his wife, Andreja. They are kind, caring, and very giving, and Bob is so approachable and so knowledgeable about all aspects of the Isagenix business, products, and culture. He is eager to host Isagenix product events, share information on weekly team calls, and keep us updated on Celebration and New Year Kick Off events (live from the events!). His love for Isagenix and willingness to share it with anyone who wants to listen is unwavering. He truly does have the Spirit of Isagenix."
– Carey Koochin
Trevor and Jennifer Pitts
Ontario
"Trev and Jen have really stepped into their own, from putting on events in their home to hosting large events at public venues. They took me under their wing when I was first starting out, and I would receive something from them almost every day to read or listen to so that I could learn. They were my support team. As I write this, I realize how much of a staple they are in my life. They have such a genuine love for Isagenix and all it can offer and represent One Team more than anyone else I know. They will help anyone; I just love them!"
– Kristen Kerr
Angela Martini
Calgary
"Angela is one of the best people I know, whether in Isagenix or life in general, she is always the first person to lend a helping hand. She is a born leader who always steps up first, and her integrity, passion, and work ethic can be seen in everything she does. When speaking about Isagenix, Angela is passionate, excited, compliant, and educated. She and Joe are the foundation of our team, always opening their home to host team Launch Parties, business meetings, and team socials! You couldn't pick a more deserving person than Angela to be the Spirit of Isagenix."
– Heidi Tritscher
Be sure to send in your vote for the Spirit of Isagenix award! Voting closes March 11.