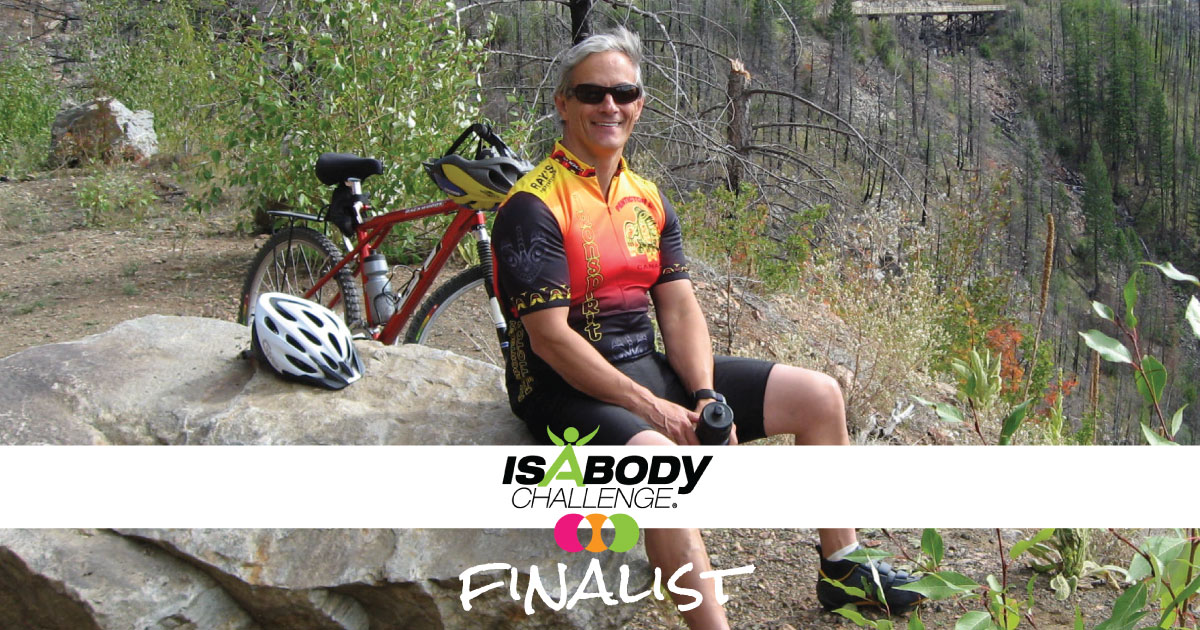 When Peter Gibbenhuck reached his 61st birthday, he started to reflect back on his life. After 35 years of service as a police officer, he had a lot of aches and pains. Although he would do his best to try and stay physically fit, Peter felt like he was always falling short.
"I started to think that this is the way the rest of my life was going to be," Peter says. "Just sore and stiff all the time, somewhat cranky, and upset with myself that I wasn't staying in shape."
Peter knew he didn't want to continue to be a "mobile cripple," as he described himself, and he continued to struggle to motivate himself to make his health a priority.
Taking Health Into His Own Hands
When Peter's wife started talking to their friends about the nutritional cleansing system that they had just completed, Peter wanted no part in the conversation. But after hearing her friends rave about the products, his wife couldn't wait to try Isagenix!
"I've tried systems like this before, and they gave me some success, but within six months, I was back to where I was before," Peter said. "I wasn't ready to invest in Isagenix."
But, after watching his wife dedicate herself to the Isagenix 30-Day System and experience incredible results, a once skeptical Peter was ready to give the products a try himself.
"I'm the type of person that needs a goal," Peter said. "I can't just do something for the sake of doing it. I need to be able to have something to strive for and work toward."
He decided if he was going to give himself a chance to succeed, he needed a way to stay accountable and motivated, so Peter registered for the IsaBody Challenge®.
Shortly after starting the system, Peter already began to experience his own amazing results. By focusing on his nutrition and following the system very closely, he started seeing the pounds come off. He was also feeling better and had more energy overall. After his first IsaBody Challenge, Peter released an impressive 20 pounds!*
Pushing Fitness to the Next Level
Peter decided to take his transformation to the next level. He didn't want to join a gym or do any crazy workouts, so he kept his exercise close to home.
"I decided to work out in my backyard. I've got a couple of barbecue tanks and bricks that I use for weights. I do pushups and other bodyweight exercises. We have a fairly steep road about three minutes from our house here, so I run up and down it a few times. And that's how I do my workouts."
After training in his backyard during his IsaBody Challenge, Peter decided to really test his performance and newfound energy by completing a workout program he was required to complete once a year as a full-time police officer.
"There's a workout program called the Police Abilities Requirement Exercise, and it's normally geared toward people who want to apply for the force prior to admission as a way to test physical abilities required for the job," Peter said. "It's basically four minutes of torture."
Peter was amazed at the strength and energy he felt as he completed the program, and he felt like he was 20 years old again.
Positive Energy Heading Into the Future
Not only did Peter see an amazing physical transformation through Isagenix and the IsaBody Challenge, but he also felt a mental transformation.
"I was physically feeling better and noticing the improvements," Peter said. "My body was obviously getting in better shape, but overall, I was also more at peace with myself."
Peter was shocked at how ingrained his negative thoughts and attitude had become over the years. As his mindset shifted and he developed a more positive outlook, Peter's friends began to take notice of his "changes" and wanted to know how they could experience their own transformation.
Peter is passionate about sharing Isagenix with others, particularly those in his age group who may also be "mobile cripples," as he once described himself. He hopes that he can inspire others who may lack proper nutrition and exercise to prioritize their health and transform their lives through Isagenix, too.
"I am convinced Isagenix creates a positive energy," Peter said. "That positive energy leads to your ability to become the healthy person you always wanted to be – especially as we enter the best years of our lives!"
*Results not typical. Weight loss, muscle gain, lifestyle, and other results depicted here reflect exceptional individual experiences of Isagenix Customers and should not be construed as typical or average. Results vary with individual effort, body composition, eating patterns, time, exercise, and other factors, such as genetic and physiological makeup. In a study performed in 2012 by University of Illinois at Chicago researchers, subjects lost an average of 9 pounds with an average of 2 pounds of the loss from visceral fat after 30 days on an Isagenix System. The subjects also had a greater level of adherence and had more consistent weight loss from week to week compared to subjects on a traditional diet. View the study results.