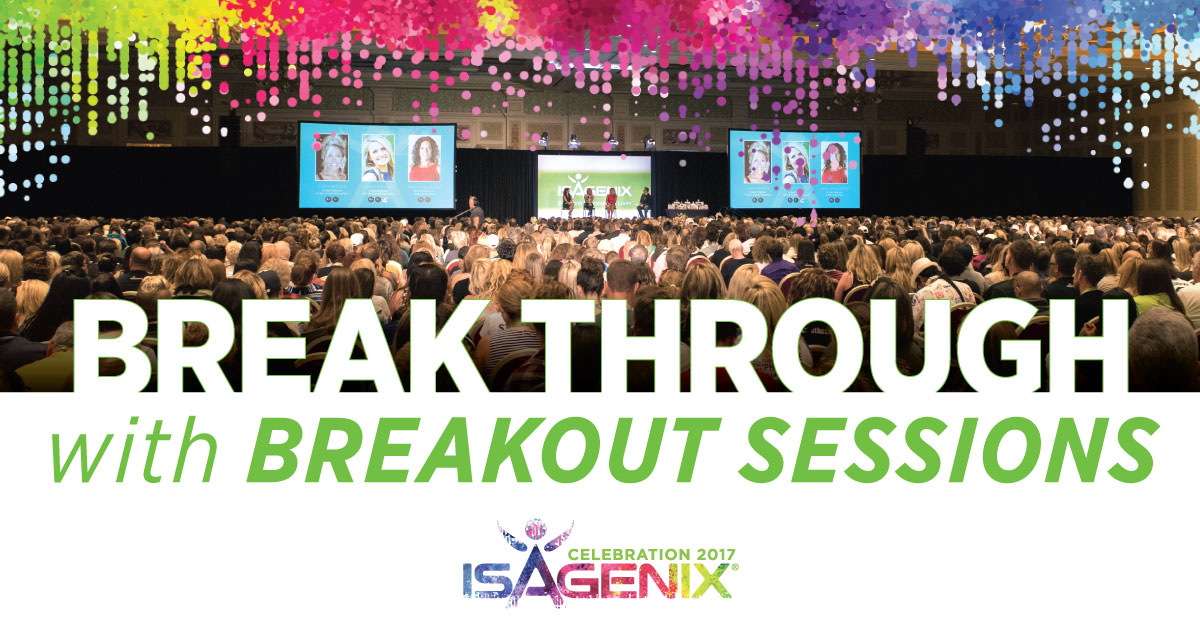 You asked, and we listened! Our ever-popular Breakout Sessions at Celebration have been expanded this year. Celebration 2017 attendees now have the chance to explore the business topics of their choice and receive extensive training from Isagenix top leaders on Tuesday, August 8, 2017 from 8:30 a.m. to 2 p.m. PST.
Celebration 2017 Breakout Session Agenda
Session: Power Prospecting Strategies and Rethinking Objections
Trainers:
Susan Sly, Isagenix Millionaire,* 17-Star Platinum, 20-Star Crystal Executive
Former television and radio personality Susan had been suffering in silence with her health for years. Once a professional triathlete, she had given up all hope for finding a solution when a former client approached her with Isagenix. Susan was adamant that the products weren't for her and was determined to discover fault in them. But after looking at the formulations, Susan decided to get on the program and the decision changed her life. Fourteen years later, this Isagenix Millionaire's* mission is to help people pursue freedom in their lives and have the power to say yes to the things they previously thought were impossible.
"I am going to teach you how to connect respectfully and how to go deep with your team and drive your organization. Regardless of your level within Isagenix, you are going to leave with the confidence to go out and take action."
Lisa DeMayo, Isagenix Millionaire,* 13-Star Platinum, 13-Star Crystal Executive
Certified life and leadership coach and trainer Lisa spent over 14 years working in the pharmaceutical sales industry. But as a single mother of two young children, she struggled making ends meet until she was introduced to network marketing. Three years into her new career, Lisa became a top income earner and she was sure she was in the right industry, but just not with the right company. After researching several companies' compensation plans and products, Lisa walked away from her six-figure income to join Isagenix. This passionate leader coaches team members in six countries to create their own destinies. Thanks to her success with her Isagenix business, Lisa gets to travel the world with her children and build a network marketing empire from home with her family.
"I want to show you how to look at objections as an opportunity to explore what is going on in one's mind. Without them, we would never have the opportunity to learn, grow, and educate others."
Session: Mindset Reset: How to Help Your Customers Establish and Maintain Healthy Habits
Trainer: Rod Hairston, CEO and Chairman of Growth-U
As one of the fastest-growing authorities of organizational culture, leadership, and human potential, Rod Hariston has helped more than 500,000 individuals and organizations transform their identity for long-lasting results with programs like his 45-Day Challenge® series, which has been internationally recognized as one of the best integration programs for change and results. Rod and Growth-U are also the creators of the highly successful Healthy Mind and Body program created for Isagenix and he joins us at Celebration to show attendees how they can shift their mindset and habits to help maintain a healthy long-term lifestyle.
"The foundation of all success is a courageous belief in self. I'm going to show you how to stop sabotaging yourself in your growth and maintain a healthy mindset."
Session: Mastering the Fundamentals: Learn How to Enroll More People in Less Time, and Grow Your Business Bigger, Better, and Faster Than You Ever Thought Possible!
Trainer: Michael Clouse, Isagenix Millionaire,* 18-Star Platinum 14-Star Executive
Over his 30-year career, Michael Clouse has been recognized as one of the "Top 10 Network Marketing Trainers" in the world. He has authored over 50 published articles along with several books, videos, and audio training programs all on the subject of Network Marketing. In June 2011, Michael walked away from his lucrative speaking and consulting career to join Isagenix. Today, Michael, along with his beautiful wife, Lynn Hagedorn, are currently the No. 1 Isagenix income earners worldwide!
Session: How to Score More Business With Sports Performance
Trainers:
Geri Berdak, Vice President of Global Marketing
Geri has over 25 years of experience leading marketing teams to build and grow businesses within the health and wellness industry. As Vice President of Global Marketing, Geri is responsible for facilitating growth for Isagenix through successful brand and marketing strategies involving market research, product marketing, digital marketing, communications, and advertising. Geri and her team bring the company together as one voice and ensure the organization's message is distributed across channels and to targeted audiences to meet sales objectives. Geri holds a bachelor's degree in food science and nutrition from Missouri State University and a MBA with distinction from the New York Institute of Technology.
Blake Shaver, Sales Program Coordinator
With a Bachelor of Science in exercise and wellness from Arizona State University and over nine years of personal training experience working closely with high school and collegiate athletes, Blake brings a unique outlook on the sports performance industry to Isagenix. In his role as Sales Program Coordinator for our Team Isagenix community, he assists our elite athletes in taking their performance to the next level and guides them in sharing their passion for Isagenix with others. He joins our team of trainers to teach you how to capitalize on our unique performance line to grow your business, educate new customers on the products, and establish our position in the sports performance market.
"Expect to walk away from this session equipped with rock-solid confidence in your knowledge of our performance products and prepared to expand your business within the sports performance space by properly identifying potential prospects."
Rita Catolino, 4-Star Golden Circle, 2-Star Crystal Executive
As a successful personal trainer and former fitness competitor, health and fitness has always played a huge role in Rita's life. Although she loved working in the industry, Rita felt alone in her business without the support, resources, and encouragement that a community like Isagenix offers. Rita joined Isagenix with a vision to replace her current income, through sharing the incredible, top-of-the-line nutrition she used to support her athletic performance. Now a part of Team Isagenix, she is plugged into a supportive community that provides accountability and camaraderie. Rita works with competitors and everyday actives alike and shares Isagenix to help them pursue and accomplish their individual health and financial goals.
"I'm passionate about creating more awareness around the Isagenix performance solution. Some people just don't have the proper education to use it to grow their business and reach a large untapped market. These products are not just for hardcore athletes. They are for those day-to-day athletes and I'm teaching you how to reach them."
David Gilks, Isagenix Millionaire*, 6-Star Golden Circle, 5-Star Executive
Internationally certified personal trainer and medical exercise specialist David has led a wellness-focused lifestyle for almost 25 years. As owner of Core Essentials PERC Med Fit, he has dedicated his life and career to helping others through training and rehabilitation. But with the stress that comes with owning his own business, being a competitive athlete, and becoming a new parent, his ability to recover from the stressors was being challenged. That's when David started using Isagenix and he has never looked back. Thanks to the superior nutrition, David feels he is in the best shape of his life. He invests his time taking the Isagenix vision into the fitness arena and showing trainers and athletes how to use this incredible wellness and business opportunity to change their lives the way it changed his.
"I am so excited to share the simple 1-2-3 method that I use to promote our performance line to athletes and the way I explain how to use this exceptional system to my new Members."
Ryan Englebert, Isagenix Millionaire*, 9-Star Platinum, 4-Star Crystal Executive
Ryan founded Englebert Training Systems with the vision and goal to provide unmatched performance mastery training for serious athletes. He has since delivered proven results for a variety of athletes across all levels of competition, including over 50 NFL, MLB, NHL, and Olympic athletes and 100 Division I athletes. Knowing the importance of pairing training with high-quality nutrition to produce maximum performance, Ryan aligned himself with Isagenix and shares the products with others to help them achieve their fitness and health goals. Not only does Ryan help change the lives of others daily, he has taken his own performance to new heights and has created more time for himself and his wife Heidi to spend with their children.
"A one-size-fits-all approach doesn't work in training, and it's also not optimal for nutrition implementation. I'm excited to chat about how and why you need to meet athletes where they are to help them have the best experience possible when it comes to taking our Isagenix products in relation to their goals and needs."
Session: How to Support Your Spouse in Any Stage of Their Business Panel
Trainers:
Paul Ganus, Isagenix Millionaire,* 9-Star Platinum, 11-Star Crystal Executive
As a well-recognized actor, voice artist, and commercial host, Paul has had over 200 on-camera spots during his 30 years in the entertainment industry, including many notable credits such as "The Mask of Zorro," "Hawaii 5-0," "House," "Bones," and more. Although his international acting career was very successful, it didn't always hold the financial security he wanted for his family. After years of skepticism and doubt in the "crazy" Isagenix opportunity his amazing wife Ellen had been pursuing, in 2012, Paul finally decided to jump in, learn the ins and outs of the business, and engage as a partner to move their business forward together. This couple has built a thriving team and their business has given them the resources to allow their two passionate children to pursue their dreams and activities at the highest levels.
"I'm excited to share the many ways spouses can help each other on the Isagenix journey. When you work as a team, achieving those goals and milestones is that much sweeter, and I think, more importantly, the journey itself becomes much more fun, and your relationship can grow and flourish."
Jeremy Kirkpatrick, Isagenix Millionaire,* 12-Star Platinum, 11-Star Crystal Executive
When Jeremy's beautiful, talented wife Tanya came to him with the burning passion to build an income by sharing Isagenix, he was extremely skeptical. Although he had experienced the power of the products, it wasn't until he attended IsaU Phoenix and heard Jim Coover explain the compensation plan that he truly built his belief. Now this formerly stressed banking professional is a full-time network marketing professional. Jeremy works together with Tanya to cast a vision and help their team realize the opportunities available through Isagenix. Throughout their journey, their marriage has grown stronger and their family has grown closer. Now, along with their four amazing children, Jeremy and Tanya have the ability to dream bigger and pursue their love of giving back to others and helping their community.
"Support for your spouse looks different at every step of this journey and it is always evolving. I want to teach spouses that showing support doesn't mean you must quit your job right away and immediately start sharing. You just need to be willing to put your pride and ego to the side and be there for them."
John Stevens, Isagenix Millionaire,* 10-Star Platinum, 17-Star Crystal Executive
John was leading a stressful, on-the-go lifestyle while being an active-duty member of the Marine Corps. With the encouragement of his beautiful wife Laura, he began using Isagenix products as a convenient way to get the balanced nutrition he needed. But what started as a way to fuel his busy life quickly evolved into a new way to financially support his family. After 16 years of service, John was able to retire early to join Laura in her business venture. Using Isagenix as their vehicle, this couple has transformed their financial future and can now be full-time parents to their four children. John and Laura are dedicated to serving others and assisting them in reaching their physical and financial goals.
"If your spouse wants to take a leap and give Isagenix a try, it is up to you to support her in being a healthier, and hopefully, wealthier version of herself. Use the products, sync with her social media, and assist her with the numbers of the business, then mobilize other men on your team to do the same."
Justin Courtney, Isagenix Millionaire,* 14-Star Platinum, 10-Star Executive
Justin has been working side by side with his beautiful wife Hilari in the network marketing industry for more than 16 years, and 11 of those with Isagenix. Through their admirable teamwork and dedication to sharing Isagenix, this couple has built a successful, thriving business, and in turn, has encouraged many of their team members to also build their businesses with their spouses. Justin and Hilari advocate for making Isagenix a family business and helping as many men get involved in the industry as possible. Although these Isagenix Millionaires* have different motivations and strategies for building their business, they work together as one to achieve their goal of bringing families closer together through Isagenix.
"I want to teach people that just because a spouse or partner doesn't work the business like you do, if they support you, they add value. I am happy to be a part of company that is encouraging the growth of men in the network marketing arena."
Session: Real World: The In-Home Meeting Experience
Trainers:
Tanya Kirkpatrick, Isagenix Millionaire*, 13-Star Platinum, 12-Star Crystal Executive
As a busy mom, women's ministry leader, and eyelash technician, Tanya was run-down and fatigued. Both she and her husband Jeremy struggled with work-related stress, health issues, and a lack of energy. When she was introduced to Isagenix, Tanya was skeptical at first, but after seeing and feeling the results of the products, she knew she had to tell people about them. After setting and achieving her goal of reaching Isagenix Millionaire* status, Tanya now spends her days helping her team, coaching them to persevere and be open to growing, and inviting them to dream with her.
Trudy Maples, Isagenix Millionaire*, 9-Star Platinum, 12-Star Crystal Executive
With a background in network marketing, Trudy joined the Isagenix family in 2015. She has built a successful business with her husband Nathan. Recognized at Celebration 2016 with Nathan as the North American Leaders of the Year, Trudy is a dedicated leader of a fast-growing team. The belief in helping people become healthy and feel better from the inside out has led this determined wife and mother to amazing success.
Tanya and Trudy join us at Celebration to equip you with the tools and information you need to host a successful event! During this interactive breakout, they will demonstrate their exact setup, execution, and follow-up that helps them put on an effective Launch Party every single time. Attendees will then have the opportunity to pick their brains during the open Q&A portion of the segment.
"Health and wellness events are about real people sharing their real success and doing real life together. You will leave this session with the knowledge of how to demonstrate a proper testimonial, talk about the five pillars of health, sample products, and give a strong call to action."
Session: Inspiring a New Generation

Trainers: 
Laura Stevens- START Ambassador, Isagenix Millionaire, 10-Star Platinum, 18-Star Crystal Executive
Jackson Parr- START Ambassador, Isagenix Millionaire, 11-Star Platinum, 9-Star Crystal Executive
Mackenzie Blanchard Arball- START 1000, 4-Star Golden Circle, 4-Star Crystal Executive
Ignite business growth by tapping into one of the fastest-growing segments in Isagenix: START. These young entrepreneurs have mastered the ability to connect people to a culture that unites teamwork with the power of personal meaning and vision. Join these successful START Associates as they discuss how to create, shape, and share a strong sense of community that inspires and motivates young people to come together to help themselves and give back to others. Learn techniques and tools you can use to build a legacy of relationships, collaboration, and commitment that lead to long-lasting value and success.
Session: Sharing Your Story the Right Way
Trainers: Pamela Barnum, Isagenix Millionaire,* 5-Star Golden Circle, 9-Star Crystal Executive
After twenty years working as an undercover police officer and prosecuting attorney, Pamela felt the wear and tear of the demanding, stress-filled job on her body. When she and her husband Kevin were first introduced to Isagenix, they were uninterested in the business opportunity. But after seeing and feeling their own results, they felt passionate about the products and began to share them with others. Using the communication and relationship-building skills she strengthened in her previous career, Pamela has grown a successful Isagenix business. This Isagenix Millionaire* now has the freedom to spend more time with Kevin and her son Kaleb and gets to pursue her passion of teaching others how to reach their goals through consistency, determination, and drive.
"I'm excited to share my top strategies on how to make your story intriguing, funny, and compliant. If you've ever wondered 'Can I say that?' then this is the session for you."
Session: Taking Your Business International
Trainers: Senior Director of International Sales, Christopher Nish
Did you know you can expand your business internationally right from your own backyard? Our global growth is rapid and we want each of our business builders to have the opportunity to capitalize on the momentum. Hear from a representative from each of our markets as they share insight on their product offerings, payment methods, cultural distinctions, greatest challenges, and future plans. This breakout session will equip you with the information you need to tap into a world of opportunity.
"Isagenix has a vision to impact world health and we are quickly extending our reach into new markets year over year. This session will equip you with the best practices and information you need to overcome any challenges you may be facing and quell any concerns you have about expanding your business worldwide."
If you don't want to miss a chance to delve into these topics and learn from our top leaders, head over to IsagenixCelebration.com to register. Tickets are going fast as this event will sell out soon! We encourage you to buy yours now!
Ranks as of 5/30/2017.
*An Isagenix Millionaire is an Independent Associate to whom Isagenix has paid a gross total of $1 million or more since joining Isagenix. Earnings reflect gross amounts that do not include any business expenses. Earning levels or income statements (including claims such as the ability to quit a job or stay at home or portrayals of luxury lifestyles) for the Isagenix Independent Associates discussed here exceed the average results achieved by all Associates during the same time period, are not necessarily representative of the success or compensation that any particular Associate will receive, and should not be construed as typical or average. The ability to earn income under the Isagenix Compensation Plan depends on many factors including an individual Associate's business, social, and sales skills; personal ambition and activity; availability of time and financial resources; and access to a large network of family, friends, and business contacts. Isagenix cannot and does not guarantee any particular level of earnings. Even Associates who dedicate a significant amount of time, effort, and personal funds may not achieve a meaningful level of success. For average earnings, refer to the Isagenix Earnings Disclosure Statement at IsagenixEarnings.com.