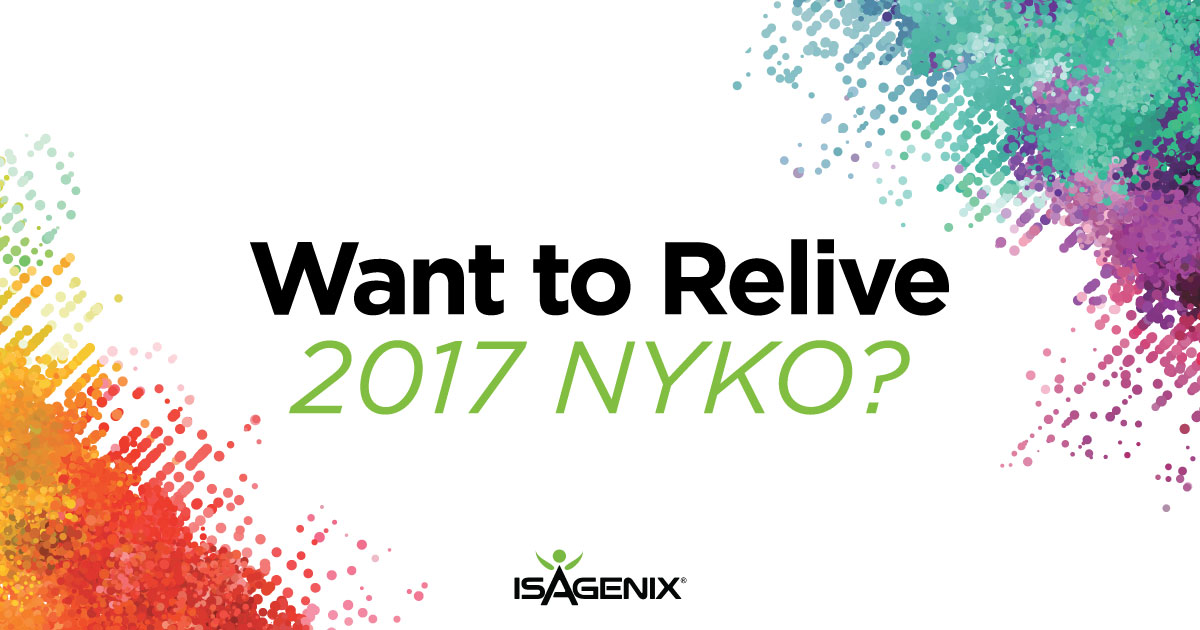 If you want to relive the great training and excitement from 2017 New Year Kick Off (NYKO) or didn't have the opportunity to attend the event in person, then we have some exciting news for you!
This year, IsagenixLive is bringing you full access to rewatch 2017 NYKO On Demand. Sit back and relax in the comfort of your own home, and watch as our top trainers to transform the way you approach business building. NYKO On Demand can equip you with the skills and tools you need to take your business to the next level this year and support your first 90-Day Action Plan of 2017!
So, what can you expect from 2017 New Year Kick Off On Demand?
Exciting company updates and new promotions from Isagenix Co-Founders Jim and Kathy Coover and President and Chief Operating Officer Travis Ogden.
Goal setting for the new year with Jessica Reigner.
You Share, They Share, Repeat.™ training from Dr. DelRae Messer.
Strategies to help you connect with people, in person and online, with Tanya Kirkpatrick, Chris Harder, and Susan Sly.
Business-building advice and insight from David Norrie, Trudy Maples, and Laura Stevens.
Invaluable product information from Isagenix Chief Science Officer Dr. Robert Kay and Dr. Paul Arciero.
A moving IsaBody™ segment and testimonial from 2016 IsaBody Challenge® Grand Prize Winner Alvie Shepherd.
Inspiration and motivation to create and complete your 90-Day Action Plan from closing keynote speaker Jay Bennett.
In-depth product training sessions via Science Talks.
And more!
All 2017 NYKO ticket holders have FREE access to 2017 NYKO On Demand. Just visit IsagenixLive.com, and scroll down to the bottom of the page for instructions on how to redeem your access. All other Associates can purchase tickets for only $50 at IsagenixLive.com.
Once you have access, log on to IsagenixLive.com to watch the event through April 23, 2017!