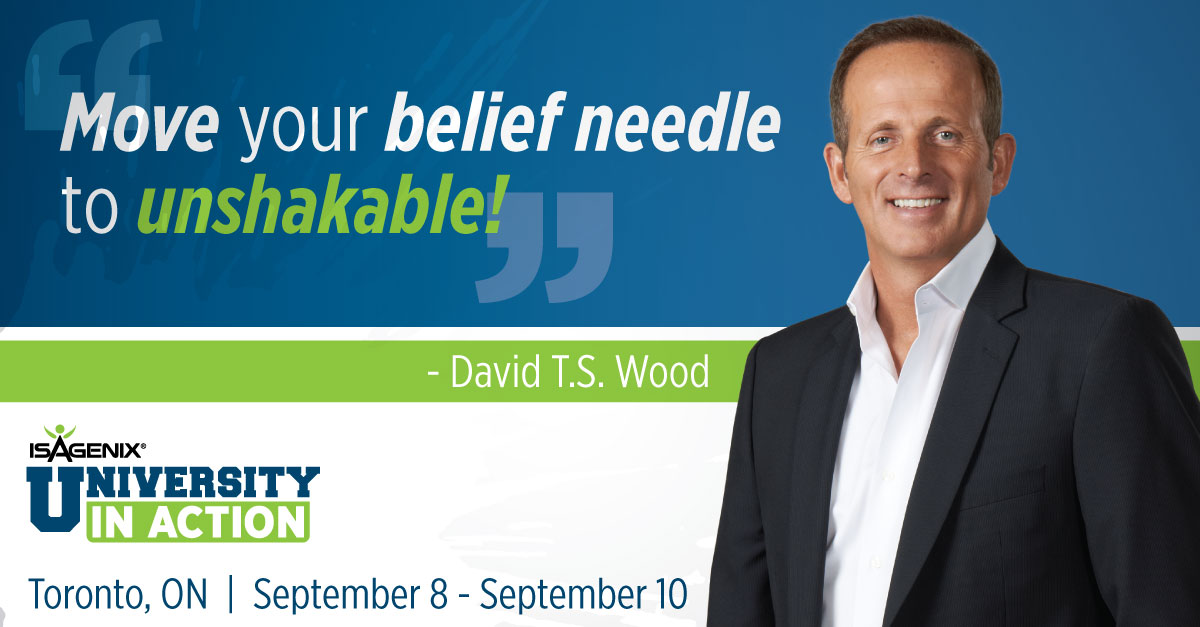 Whether you are new to the network marketing industry or a seasoned professional looking to lead your team members to success, University in Action Toronto is the event for you!
Led by Isagenix Strategic Training Consultant David T.S. Wood, this two-and-a-half-day program is designed to help you change the way you approach business building. Recognized as one of the world's leading personal development trainers, David guides attendees through the key areas of belief needed to become successful network marketers, breaking down doubts and concerns.
"So many people are on the cusp of leaving the profession because they aren't sure where their belief system is at, not sure how to deal with rejection, not sure about their skill sets, and more," David said. "As the program develops, you really see people change their mindset from 'I don't think I can do this.' to unshakable belief and 'I can do this.'"
What Can You Expect From UIA?
David has designed this program specifically for Isagenix business builders. Determined to set you on the path to success, he shares the four key things that you will focus on at UIA Toronto:
Beliefs. There are six key belief systems. Once you understand them, understand you are responsible for them, and understand how to move them, you can step into the life you want to create.
Expectations. Develop true expectations of what it will take to create the kind of life you want and recognize that you can achieve it.
Skill sets. Practice and master the foundational skill sets needed for this profession so your systems are duplicable for your team members.
Fun. Learn how to have fun in this profession. Discover what is blocking you so you can break through it and create the life of your dreams.
What Makes UIA Different?
Rob and Kim Murgatroyd, 4-Star Golden Circle, 2-Star Crystal Executives,* believe University in Action is an invaluable event that will help you develop your business, just like it helped them with theirs!
"This event is different because it's like a learning lab," Rob and Kim said. "It has motivation, inspiration, and training from top leaders just like the other Isagenix Core 4 Events™; however, it forces you to get outside of your comfort zone and not just learn and take notes, but actually practice and get feedback on how you can improve your skills."
At UIA Toronto, attendees will have the opportunity to practice systems and use templates to help grow their businesses while gaining confidence in the industry, the company, and themselves. This event has been designed for beginners, part-timers, full-timers, and experts to work together in an interactive, dynamic setting that helps contribute to many lasting friendships and incredible breakthroughs.
Want a sneak peek of what you will get at UIA Toronto? Check out this video!
Get Your Tickets to a UIA Near You!
"I want people to leave with a 10-year mindset and realize that this is a real profession, you can make real money, and you have the ability to really change and impact lives," David said.
This invaluable event is coming to Toronto, and you do not want to miss out. Tickets are still available, so head over to IsagenixEvents.com now to secure yours. Don't forget to invite your friends and team members to join you! Then book your room for UIA Toronto in the Isagenix room block by Aug. 16, 2017, to receive discounted rates. For more information on UIA Toronto room blocks, visit IsagenixEvents.com.

​*Rank as of 5/30/2017. The ability to earn income under the Isagenix Compensation Plan depends on many factors including an individual Associate's business, social, and sales skills; personal ambition and activity; availability of time and financial resources; and access to a large network of family, friends, and business contacts. Isagenix cannot and does not guarantee any particular level of earnings. Even Associates who dedicate a significant amount of time, effort, and personal funds may not achieve a meaningful level of success. For average earnings, refer to the Isagenix Earnings Disclosure Statement at IsagenixEarnings.com.