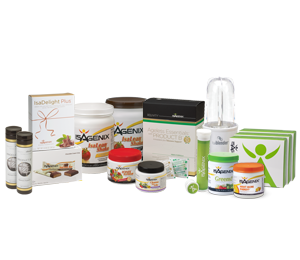 If want to focus on youthful aging to grow your business, then look no further than the Healthy Aging President's Pak. This powerful pak features a potent ensemble of some of our best products–that deliver some of the best results–available in any complete Isagenix® system.
Healthy Aging While Building Business
The Healthy Aging President's Pak was designed for anyone interested in youthful aging and building an Isagenix business. It contains our most advanced products–like our cutting-edge Product B™ Antioxidants plus Telomere Support–as well as an extensive assortment of professional marketing tools that present the powerful Isagenix opportunity for exceptional health and wealth. For greater impact, you can even share instructions on how to use a 30-Day Cleansing and Fat Burning System.
The marketing materials in this comprehensive pak provide power to your pitch as you spread the word about how Isagenix products have impacted your life along with thousands of others worldwide. Inspire a business prospect with a $50 event coupon; offer the enclosed system guide for further discussion; share a 5-Piece Sample Pak and let your lead or family member experience Isagenix first-hand.
Here's what's included in the Healthy Aging President's Pak:
With the Healthy Aging President's Pak, prospects and family members can see–and taste–the Isagenix difference for themselves. Build your business while you build momentum on the road to healthy longevity.
Adding the Healthy Aging President's Pak to your Autoship is the best route to building healthy longevity while building a healthy business. And don't forget; if you help your new personally-enrolled team member join Isagenix with a Healthy Aging President's Pak, you earn a $60 Product Introduction Bonus—or $160 Double Product Introduction Bonus—money back in your pocket!
Don't hesitate, share this amazing pak today! Discover more at Isagenix.com.