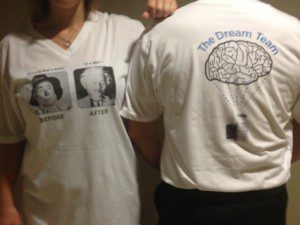 Congratulations to the 15 Associates who won a limited-edition Isagenix Brain and Sleep Support System™ T-shirt as a result of sharing their stellar experience using the new Isagenix® Brain and Sleep Support Renewal System—a $21.95 value! (Pictured)
Here's what they had to say:
1. "While I never had any problems getting to sleep, staying asleep was another issue. I began using the Brain and Sleep Support System the very first day it was released at Celebration 2012 in Phoenix.  That very night I slept through for the first time in years and I woke up the next morning rested and refreshed." —Mitchell E.
2. "Isagenix Sleep Support & Renewal™ allows me to relax quicker and shut down so I can concentrate on sleeping. Wow! It has been amazing and I don't ever want to be without either the Isagenix Brain Boost & Renewal™ or Sleep Support & Renewal on my shelf." —Sandy M.
3. "Before Isagenix, I would wake up tired, and never really felt I went into a deep sleep. I have been using the Isagenix Brain and Sleep Support System and I am more focused during work and in my tennis game. I go into a deeper sleep and wake up feeling well rested." —Dianne D.
4. "I love that Isagenix Sleep Support & Renewal is in spray form and so easy to use. The Brain Boost and Renewal is the perfect partner to Sleep Support and Renewal. I know that using them only benefits my mind and body." —Tammy A.
5. "Before the Brain Boost & Renewal and Sleep Support & Renewal, I would wake up several times during the night and would need a crowbar to pry myself out  of bed. Now, I sleep through the night and wake up with vim & vigor." —Deborah W.                                          
6. "These products alone have positively impacted my work day.  Now I am turning my mother-in-law onto it; friends, and my husband, as we are all over 50 and want to maintain our very best physical, mental, and emotional states of being. Thank you for a wonderful experience." —Lisa L.                                                                                          
7. "Sleep was not something I looked forward to; it was just not very restful! I decided to try the Isagenix Sleep Support & Renewal, knowing how terrific the other Isagenix products were. The first night I tried the product I was thinking it probably would take a few days to take effect, but, BOY, was I wrong!  I slept like a baby that night and every night since. No more tossing and turning or staying awake at night. This, in turn, helps me get out of bed in the morning and start my day fresh.  I love this product and have already helped other people start sleeping better at night!"—Valerie W.
8. "Before trying the Isagenix Brain & Sleep Support System, my rest was okay. However, after trying the new system – WOW! My rest hours are just a higher quality now! I wake up every morning refreshed, recharged and ready to go! Love this stuff!"—Jenny B.
9. "I must admit that I totally LOVE this product. I can get a GREAT night's sleep now; I fall fast asleep within the 20 minutes and have a WONDERFUL sleep. AWESOME JOB ISAGENIX!" —Miriam G.                                                                        
10. "My mind is sharp, alert and able to keep up with the daily demands I face as a mother of four and as a full-time special education teacher! Every day, I'm able to give my best to my family and my students and staff I work with because of The Isagenix Brain and Sleep Support System." —Theresa J. D.
11. "These products actually work!  How many times have I purchased a sleep product with no positive results whatsoever. Now I use the Isagenix Sleep Support Renewal one night and I get the most sound sleep I've had in over three years. I usually have so much on my mind that my brain feels like a foggy day. I honestly feel my brain waking up after taking the Brain Booster.   My mind really does feel clearer, more awake and no more 'fog.' Thank you for two wonderful new products." —Azalia H.
12. "This product helps me to be a better leader. I feel rested, have clear and concise thoughts, and feel ready to be a leader. Thanks isagenix! Once again I love your very thorough science and business knowledge of health and wellness."—Laura T.                                                                                            
13. "Some time ago, I began having restless nights. I sought help from my doctor and it was suggested that I take sleeping pills.  That, to me, was not a solution. Then at the Isagenix Celebration I learned about the Isagenix Brain and Sleep Support System. They worked beautifully. I followed the program, and almost immediately, I began sleeping more deeply and more restfully." —Dale J., CPA                                                                                                       
14. "Without a doubt, I have experienced deeper quality sleep since I first started using the Isagenix Brain and Sleep Support System in mid-August.  In addition, I have also taken the daily Brain Boost & Renewal. I feel I have been able to stay sharp and on top of very difficult decisions. Thank you Isagenix! Indeed, you have and continued to give me and my brain the boost I need to function in life." —Sue L.
15. "I cannot speak highly enough about the Isagenix Brain and Sleep Support System! Multi-tasking is a cake walk, and my power of recall has improved.  I really wish I had had this product when I was attending Grad School! Thank you, Isagenix, for making another top-notch product AGAIN!" —Kimberly S., L.M.T., Certified Reflexologist
For more information on the Isagenix Brain and Sleep Support System, visit IsaFYI.com's "Products" page.
*These statements have not been evaluated by the Food and Drug Administration. These products are not intended to diagnose, treat, cure or prevent any disease.