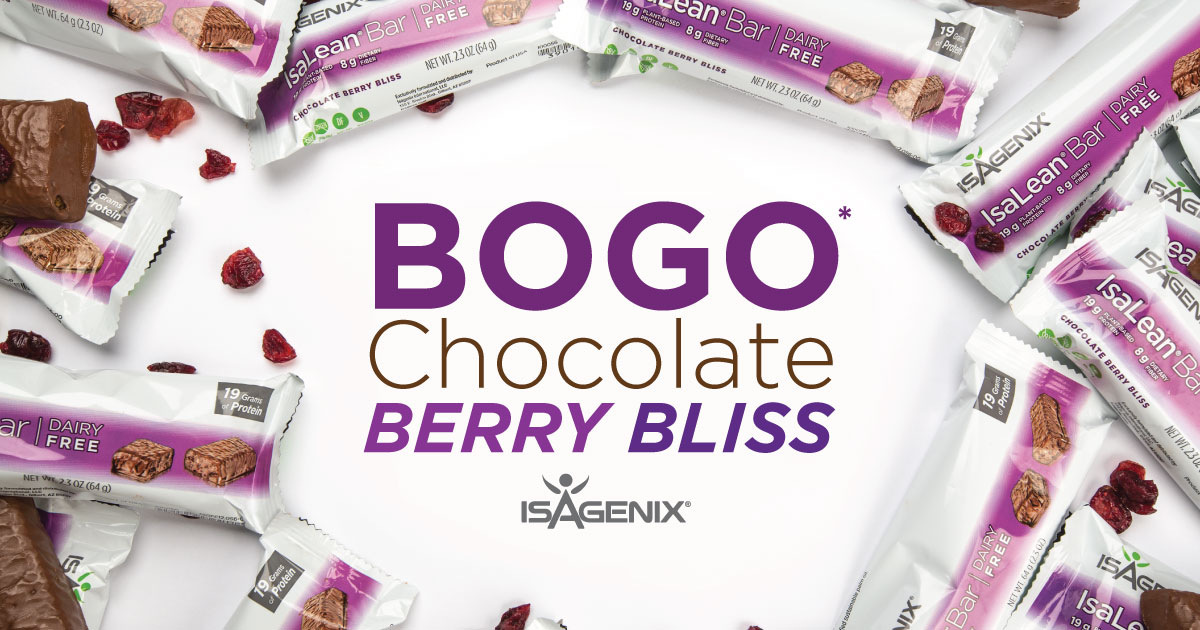 What?! FREE Dairy-Free Chocolate Berry Bliss IsaLean® Bars?
Today Through May 1

Buy 1 Box of Dairy-Free Chocolate Berry Bliss IsaLean Bars, Get 1 FREE!*
Use Promo Code: DFBERRY
Our annual Summer Cooler Program starts May 2, so be sure to place your orders of dairy-free Chocolate Berry Bliss IsaLean Bars before surcharges are applied to all heat-sensitive orders. Cash in on the savings of your favorite nutritional companion before the heat of summer strikes. These perfectly plant-based bars offer:
19 grams of protein.
8 grams of fiber.
Vegetarian-friendly, soy-free, and gluten-free alternatives.
No artificial flavors, colors, or sweeteners.
Treat Yourself and Your Health! 
We are just a few short weeks away from celebrating the inspirational, strong, and fearless women in our lives and what better way to do that than with chocolate? Treat yourself – or mom – this Mother's Day.
And don't forget to treat your health! Dairy-free Chocolate Berry Bliss IsaLean Bars are a little dose of the world's most popular indulgence. Perfect for you and perfect for mom. Indulge guilt-free!
Order through your Back Office today. Be sure to use promo code DFBERRY at checkout.
*This promotion cannot be added to Autoship orders or applied to the Chocolate Peanut Butter or Chocolate Coconut Almond dairy-free flavors.