Pumpkin Spice, Twice as Nice!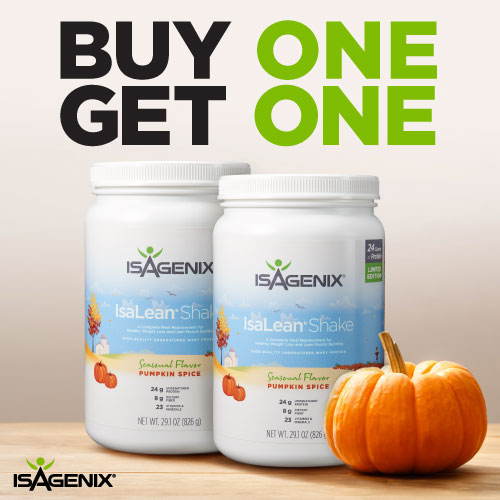 Wow, it's been a busy few days! Thanksgiving, Black Friday, Cyber Monday and now you have "The Big Give" to add to this week of celebration, promotions, and fun!
Purchase one or more Pumpkin Spice IsaLean™ Shake and receive one free* Nov. 28 through Dec. 3, 2017 in the U.S., Canada, and Puerto Rico. We're calling this "The Big Give" because this is the perfect opportunity for you to share Isagenix with a friend or family member at no additional cost to you. Purchase a canister of this fall favorite and pass one along to someone you think may be interested in our world-class shakes! Or, treat yourself and take advantage of this promo to stock up on this seasonal delight.
"The Big Give" BOGO Details:
Place two or more Pumpkin Spice IsaLean Shake canisters in your order basket and the price of one canister and the BV will automatically be deducted from your total at checkout. Note: If you purchase one Pumpkin Spice canister, a free canister will not automatically appear in your order basket. Be sure to double check so you don't miss out!
This offer is available for wholesale purchases and is open to new and existing Customers, Preferred Customers, and Associates.
A Note to Our Associates: BV on the free shake will not be applied, so be sure to double check your total BV on this order.
Looking For Some Pumpkin Spice Inspiration?
The winners of our recent Pumpkin Spice Recipe contest have some delicious recommendations to try with your free canister of shake!
Place your order now, and receive your free shake through the IsaOrder™ app or log in to your Back Office! For questions or to place your order over the phone, please be sure to contact Customer Care at 877-877-8111.
Get a jump on the season of giving by sharing the gift of Isagenix with those you care about most.
*Receive one free Pumpkin Spice IsaLean Shake canister when one or more Pumpkin Spice IsaLean Shake canister is purchased. Offer is automatically applied to qualifying orders placed from Nov. 28, 2017 (12 a.m. ET) to Dec. 3, 2017 (11:59 p.m. ET). To qualify, a Customer, Preferred Customer, or Associate in the United States, Canada, or Puerto Rico must place a wholesale product order; this promotion is not available for Autoship orders. Business Volume (BV) on free Pumpkin Spice IsaLean Shake Canister will not be applied to the Member or Enrolling Sponsor's account.