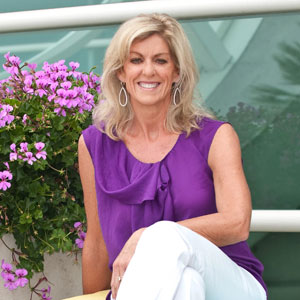 Isagenix Millionaire No. 96
Congratulations to our newest Isagenix® Millionaire: 6-Star Golden Circle and 9-Star Crystal Executive, Jani E. who has earned more than $1 million in cumulative sales to earn the prestigious title of Isagenix Millionaire!
Since starting her Isagenix business in December 2007, this devoted wife and mother of three has seamlessly managed to help thousands transform their health and wealth. And she managed to get into the best shape of her life along the way. So, we thought we'd ask a few questions about her journey along the way.
Here's what she had to say:
Q: How does it feel to be the 96th Isagenix Millionaire?
Jani: "Surreal."
Q: Prior to joining Isagenix, what did you do?
Jani: "I was a stay-at-home mom."
Q: How did you discover Isagenix? 
Jani: "I needed to lose 10 pounds that just wouldn't budge no matter how much I worked out. Some friends were doing Isagenix and having success so I decided to give it a try."
Q: Since starting your Isagenix business, how has your Isagenix income impacted your life and your family's life? 
Jani: "The extra income hasn't changed our family's lifestyle, but provided us with some nice extras, like traveling. Making memories as a family has always been a top priority for us and taking trips together is what we love to do. We love the shared experiences; it's always an adventure!"
Q: When it comes to your Isagenix business, how do you keep yourself motivated? 
Jani: "I have a limitless amount of energy and drive. We were created to give hope to others. When you play small and hold back, people think it is okay to live an ordinary life. We were meant to lead the way for others with passion and clarity and to give back. People want someone to look up to. You can still walk quietly amongst the masses with success surrounding you. Just give back to the world with success." 
Q: What do you think is unique about your strategy or approach to your Isagenix business? 
Jani: "We are all about fun! We thrive on gratitude and celebrating our team's victories and accomplishments. When someone hits a goal, we all celebrate. It's about fun, focus and empowerment."
Q: What are three Isagenix products you can't live without?
Jani: Ageless Essentials™ with Product B™, IsaLean® Pro and of course IsaDelight Plus™.
Q: What are your future plans with Isagenix? 
Jani: "My goal is to take 10 new people to six figures by 2014 Celebration." 
For more on our millionaires, visit Isagenix.com and click on our "Success Stories" page.