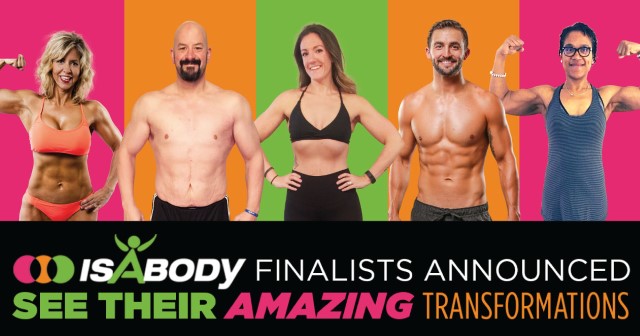 Sixteen weeks of discipline, diet, and determination. Hundreds of pounds released, and lean muscle gained. Almost eight thousand completions—the highest number to date! These are just a few of the numbers that bring to mind the Top Achievers 2016 IsaBody Challenge®. And now, another number: five. Out of the almost 8,000 competitors who completed the Challenge, we've narrowed it down to five amazing Finalists!
This year marks the 10-year anniversary of the IsaBody Challenge, and with it comes some incredible transformations! In addition to the opportunity to become the 2016 IsaBody Challenge Grand Prize Winner and win $25,000, these five Finalists earned an array of amazing prizes, including $3,000; free registration and paid expenses for them and a guest to Top Achievers in Maui, Hawaii; free registration and paid expenses for them and a guest to Celebration in Las Vegas; a paid trip for them and a guest to the IsaBody Escape, Costa Rica; and personal photo shoots!
Congratulations to our Finalists! Let's learn a little more about them…
Chris P.
Age: 41
Height: 6'2"
Total Weight Lost: 115 Pounds*
Number of Challenges Completed: 3
It wasn't until Chris hit rock bottom that he realized just how much his weight affected his children.
"Having to tell your son he has to go on a roller coaster with a complete stranger because you can't fit in the seat, or having to tell your daughter you can't play on the floor with her because you are embarrassed that the last time you did, both she and your son had to help you get up off the floor—these are things that no parent should have to do," Chris says. Chris tried multiple diets in the past, but nothing seemed to work. Then he heard about Isagenix. "That's when everything changed for me," he says.
In the past year, Chris has released over 100 pounds!* However, he feels what's more important is what Isagenix helped him gain: self-respect, an unwavering mindset, and most importantly, feeling he can now be a better father to his children.
"I play on the floor with my daughter all the time," Chris says. "And I've gone on a roller coaster with my son. We are now even planning a trip to the roller coaster capital of the world!"
Daniel P.
Age: 29
Height: 6'1"
Total Weight Lost: 23 Pounds*
Number of Challenges Completed: 2
Daniel was devastated and lost after losing his older brother in Afghanistan in 2009. He  entered the Army after graduating from West Point, and endured more hardships on his  deployment to Afghanistan.
As an army officer and airborne ranger, he needed to be fit, going on five-mile runs and walking 20 miles with 60 pounds on his back. In 2015, Daniel and his wife, also an army officer, made the decision to leave the military; Daniel found a corporate job and his wife focused on building their Isagenix business.
Corporate America was an adjustment; no longer was Daniel in the fast-paced, adrenaline-fueled environment he had grown accustomed to. Plus, his job required travel, giving him no time for exercise.
"This led to overeating, apathy towards fitness, and disappointment in who I was and where my life was headed," Daniel says. And he was about to face his toughest challenge yet—fatherhood.
Daniel hesitated when his wife suggested the IsaBody Challenge. He knew their lives would change once their new daughter arrived and wasn't sure the timing was right. But then it hit him: He needed to make his daughter the reason to get healthy, not an excuse not to!
As a result, Daniel lost 23 pounds and eight percent body fat, and gained inches of muscle,* but his journey extends beyond physical transformation.
"I regained my identity and have a newfound hope for what my future holds," he says. "It's not all about six-pack abs; it's about what it does for your family."
Jennifer L.
Age: 34
Height: 5'7"
Total Weight Lost: 100 Pounds*
Number of Challenges Completed: 4
As a previous IsaBody Honorable Mention after completing her first Challenge, Jennifer quickly realized that Isagenix would be part of her life forever. She was confident she would build a business and hoped to inspire others. During her first few Challenges, Jennifer released over 90 pounds,* while maintaining and releasing even more weight in the Challenges to follow.
Knowing she had to continue her journey, the start of Jennifer's 2016 Top Achievers Challenge also marked the beginning of her first 90-Day Game Plan, and it was also day one of the Healthy Mind and Body program. Jennifer was looking forward to watching her personal development change her game, and she set a goal at the beginning of Top Achievers to incorporate consistent, healthy activity to her daily routine.
"I think of all my Challenges, this has been my favorite," says the spin instructor and mother of two. "I really experienced a shift in a big way. I am committed to fueling my body for success. I am committed to living an incredible lifestyle that allows me to show up every day, inspiring others to greatness."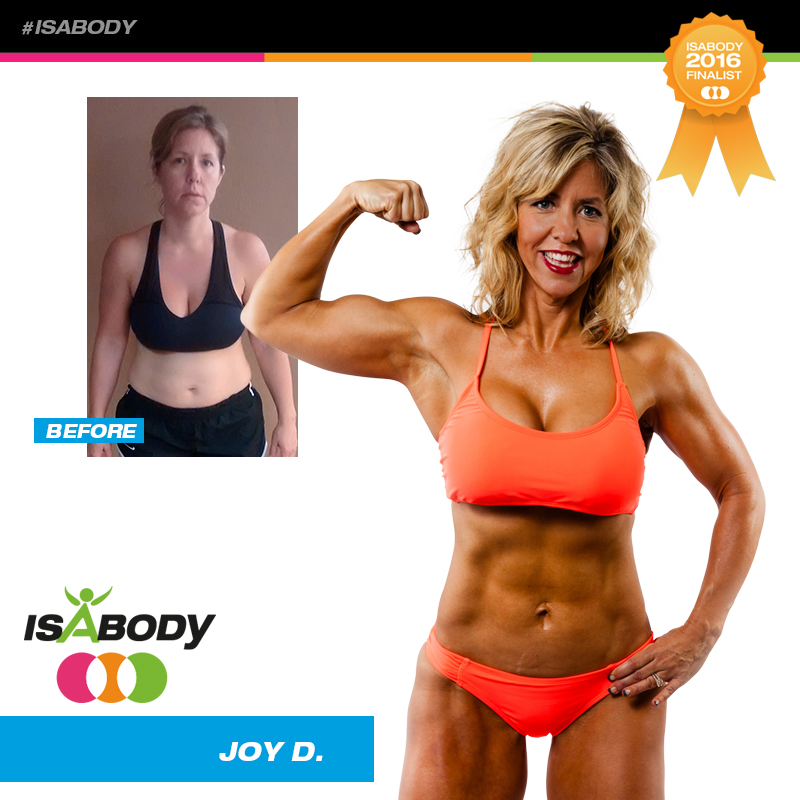 Joy D.
Age: 39
Height: 5'2"
Total Weight Lost: 20 Pounds*
Number of Challenges Completed: 2
Ever since she was young, Joy struggled with her weight and body image. At 13 years old, she hit her highest weight ever, and at the age of 14, was suffering from an eating disorder. Over the next 25 years, Joy tried everything to lose weight, but "lacked the tools and proper mindset," she says.
A mother to 10 children, Joy battled a negative mindset and physical ailments for years, which made losing weight challenging. As she morphed into a life of staying home, living quietly, and focusing on raising her children, she realized she was always exhausted, needing a nap just to get through the day and feeling dead inside, physically and emotionally.
Then Joy found Isagenix. With the nutrition flooding through her body, she began to notice changes. "The course of my life was redirected," she says.
Under the guidance of her trainer, Joy changed her diet and added more protein, including IsaPro®, and began using the AMPED™ line to maximize her workouts. Her husband and children use Isagenix products, and together the family enjoys hiking and personal training sessions.
"As a teenager, I thought I had to choose between a large family and a career in international business," she says. "I am ecstatic that Isagenix allows me to do both!"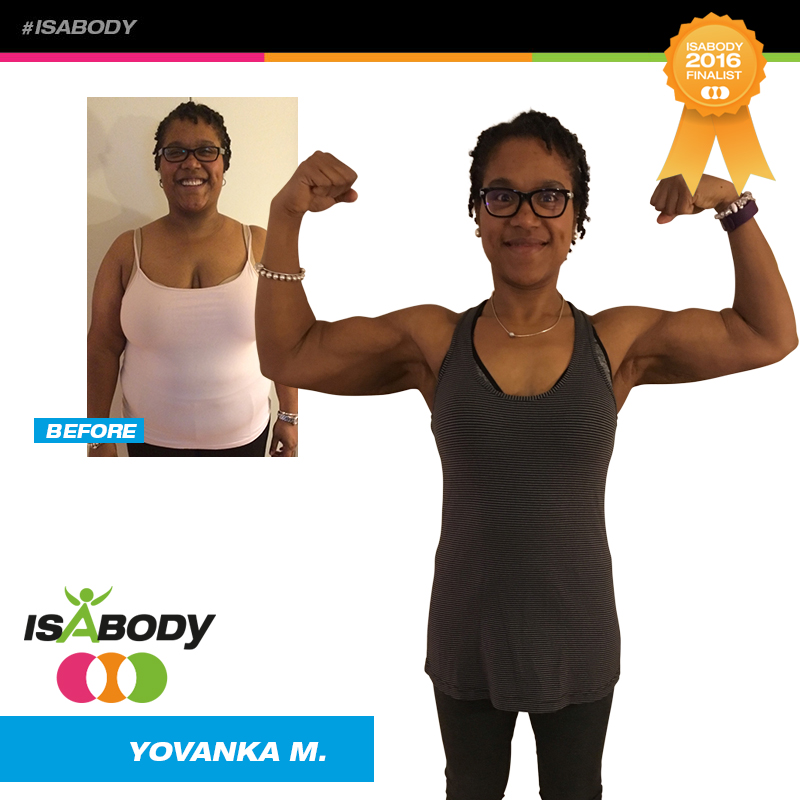 Yovanka M.
Age: 39
Height: 5'5"
Total Weight Lost: 105 Pounds*
Number of Challenges Completed: 3
A self-described "lone wolf" when it comes to weight loss and exercise, Yovanka's philosophy is if she can't motivate herself to work out and stick to it, then no one else can. Last year, Yovanka embraced what she calls a "no-gym" policy, working out five to six days a week but mostly at home or outdoors.
"I transform my body using bodyweight calisthenics, a few hand weights, a couple of kettlebells, and a mat," she says. In addition, Yovanka loves using exercise DVDs. "I guess I have a thing for being yelled at through my TV!" she jokes.
Even though she tried for years to lose weight, Yovanka's reason for wanting to change was less for her and more because she knew her mother wanted it for her. When her mother passed away, the gym became a psychological land mine for her, because she often worked out with her mother. But since beginning her IsaBody journey, Yovanka came to realize that she IS worth it and moved through that stage of her grieving.
"Only you can change yourself," she says. "It's hard to describe the confidence the IsaBody Challenge gives you. I don't believe I would have reached my weight-loss goals without the Challenge to see me through!"
Inspired by the amazing transformations you just read about? Then register for your own IsaBody Challenge! To be eligible for the 2017 New Year Kick Off Judging Period, register in your Back Office by July 19, 2016. If you have already registered, make sure to download the IsaBody Challenge Guide and 16-week journal from IsaBodyChallenge.com/Support, follow the IsaBody Instagram and Twitter accounts, and join the IsaBody Facebook group! Good luck!
*Weight loss should not be considered typical. In a study performed in 2012 by University of Illinois at Chicago researchers, subjects lost an average of 9 pounds with an average of 2 pounds of the loss from visceral fat after 30 days on an Isagenix System. The subjects also had a greater level of adherence and had more consistent weight loss from week to week compared to subjects on a traditional diet.