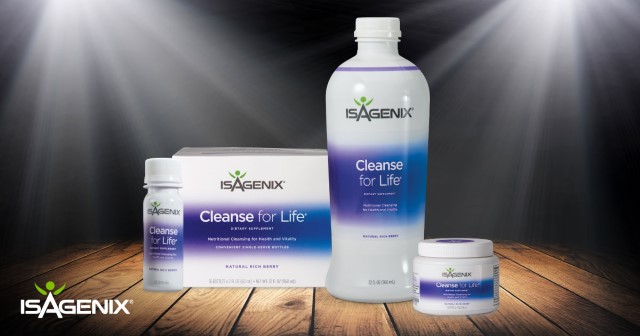 Remain Calm, Cool, and Cleansed
Have you heard? Cleanse for Life® has just been announced as the Product in the Spotlight at Celebration 2017 in Las Vegas! Which leads us to our next question…Have you cleansed lately?
Any seasoned Isagenix product user knows that cleansing, also known as intermittent fasting, is a key component to most Isagenix 30-Day Systems, and Cleanse Days are a fundamental component for achieving weight loss and weight maintenance goals. Cleanse for Life caters to those individuals who are accustomed to gentle, deep, or daily cleansing, all the while nourishing your body with antioxidants and plant botanicals that support your own detoxification systems.† Cleanse for Life is a fundamental component during Cleanse Days to support weight loss efforts when used as part of any Isagenix System. Jim Coover, Isagenix owner and chief executive officer, offered the best reflection on this extraordinary product live from the Celebration 2017 stage:
"We realized we lived in a toxic world and that a part of our program needed to include a cleansing component… a full body nutritional cleanse that you could easily incorporate into your lifestyle – either as an everyday supplement or as a deep cleanse for one or two days. Today, the whole world is waking up to the benefits of intermittent fasting – while we've been doing it for 15 years. Cleanse for Life is the most widely used nutritional cleanse in the world."
Is It Right for Me?
Any person who chooses to cleanse can benefit from the unique features this product has to offer. Keep in mind that our bodies are exposed to toxins in our environment every single day. It's important to note that your body needs nourishment on a daily basis, especially on Cleanse Days, to help battle the effects of those same toxins. Cleanse for Life helps support nutritional cleansing by providing proper nourishment to your body's natural detoxification systems.†
Features and benefits include:
A unique blend of antioxidants and plant botanicals.
Being a fundamental component during Cleanse Days.
Support for weight loss and weight maintenance.*
Help in eliminating stubborn fat and supporting metabolism.†
Cleansing CAN Be Delicious and Convenient!
As Jim Coover stated, "We've been doing it [cleansing] for 15 years."
Over that decade and a half, our Scientific Advisory Board, and supporting corporate research team, has improved and perfected the art of cleansing. As a result, we offer three satisfying and delicious products that help combat hunger and fatigue that you may experience on your cleansing journey. Whey Thins™, IsaDelight®, and Isagenix Snacks™ are available in a variety of flavors and can be enjoyed guilt-free while you cleanse.
We understand that no two people cleanse the same way. Isagenix Cleanse for Life makes it simple and easy to customize your Cleanse Days to fit your health and wellness lifestyle. Whether you cleanse straight from the 32-ounce liquid bottle, on the go with our 2-ounce liquid bottles, or simply use the powder canister, the ability to customize your cleanse is universal. It's both convenient and portable!
Cleanse With Friends
There's no better way to cleanse than with a solid foundation of accountability (aka friends!) Join us on #CleanseDayWednesday Aug. 23, 2017, for this year's Global Cleanse Day. On this day, thousands of Isagenix friends and family around the world will partake in a one-day cleanse. We hope you'll join in, too! Stay tuned to our social media channels for details on this and other opportunities to "Cleanse With Friends." Be sure to mark your calendars for Aug. 23, and order your Cleanse for Life today to ensure it arrives on time.