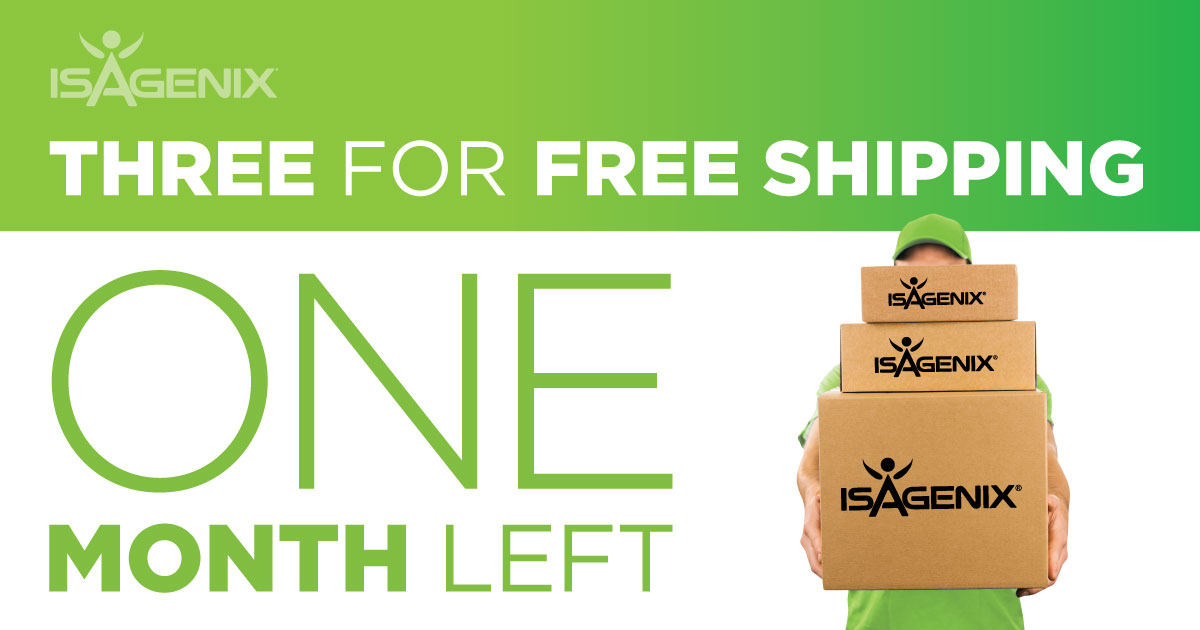 Monday, June 12: This promotion has ended. Qualifying Members will continue to receive free shipping through September 2017. 
Be sure your new Members take advantage of the Three for Free Shipping promotion that's designed to save them up to US$25/CA$28 on FREE* ground shipping for their next three Autoship orders! New Members who join Isagenix with a qualifying order by June 11, 2017, can qualify. It's as easy as shop, ship, and save!
How It Works:
Help a new Member get started with Isagenix on Autoship between Jan. 8 and June 11, 2017, with an initial product order of 125 BV or more.
Ensure that their first, second, and third Autoship orders include 125 BV

and

ship within 35 days of each other.
Free* ground shipping will automatically be applied during checkout (up to a US$25/CA$28 value). 
Here's an Example:
Jane opens an Isagenix account Jan. 15, 2017, with a 164 BV order. Jane's first Autoship is processed Feb. 12 with 125 BV, so Jane automatically receives up to US$25/CA$28 off her shipping cost. Jane continues her 125 BV Autoship order and thus continues to receive up to US$25/CA$28 off her shipping on her two subsequent orders.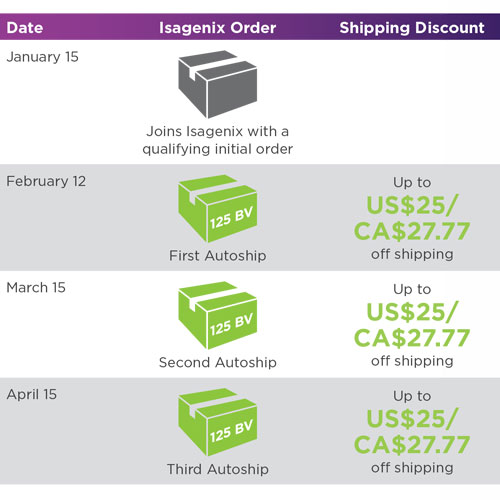 To ensure you and your team get the most out of this promotion, we programmed your Back Office and the IsaOrder™ app to show a new Member's BV in real time to help encourage new Members to qualify for free shipping. Remember, they must have 125 BV of products in their order for the shipping discount to automatically be applied at checkout.
*Three for Free Shipping is available to new Autoship Members only. Credit of up to US$25/CA$28 may be applied to shipping costs on each of the Member's first three qualifying Autoship orders for a total available shipping credit of up to US$75/CA$83. To qualify for the credit, (1) the new Member must enroll with an initial product order of 125 BV or more; (2) the Autoship order must equal 125 BV (or more); (3) the first Autoship order must be set up by the Autoship and must ship within 35 days immediately following the new Member's initial product order; and (4) each of the two subsequent Autoship orders must be consecutive. (Credit is not applicable to the initial product order.) Each qualifying Autoship order will receive a credit of up to US$25/CA$28. If the shipping discount applied is less than US$25/CA$28, the shipping cost will be forfeited and may not be used for subsequent orders, whether via Autoship or otherwise, or for any other purpose. Total credit cannot exceed US$75/CA$83. Credit may not be applied to product costs or taxes and may not be combined with other shipping promotions or discounts.