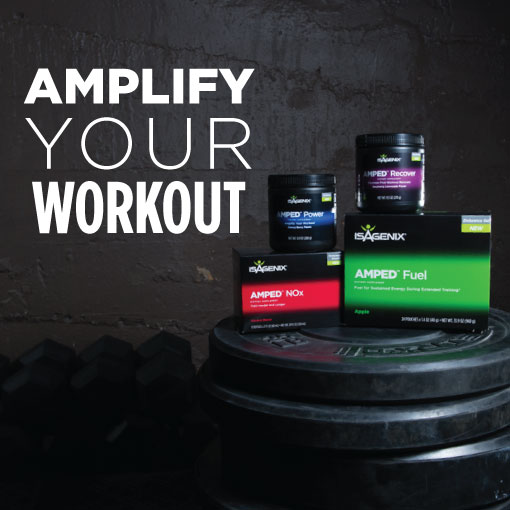 AMPED™ is the latest line of revolutionary performance products aimed to transform your workout, but it can also help transform your business. The five products that make up AMPED—Power, NOx, Fuel, Recover, and Hydrate (currently Replenish™)—create an opportunity for both current Associates and prospective new members to boost performance and their businesses.
Learning how to share AMPED and the new Performance System may seem overwhelming, but we have the tools to help you upgrade from fitness novice to all-knowing guru. These four steps will help you the next time you want to talk to friends, family, and other product users about the AMPED product line.
1. Get to Know the Performance Systems and Products.
The Performance System, Custom Performance System, and Performance Value/President's Pak are now better than ever with the AMPED product line. Now athletes and active adults can customize a Performance Solution using the latest in high-quality performance products.
Product Catalog & Product Information Sheets
You can read a fantastic overview of the AMPED product line in the Isagenix Product Catalog, and the new Product Information Sheets provide a simple, visual snapshot of each product's features, benefits, and active ingredients. Download these PDFs online for free! They are great for Launch Parties or in-home events. You can find the Product Information Sheet for each individual AMPED product on Isagenix.com.
2. Understand AMPED Personas & Nutritional Timing.
One of the first questions people will ask is, "What do I take and when do I take it?" Nutritional timing is key when it comes to this new Performance line. Luckily, we've created a guide that breaks down the four personas of AMPED users, recommended products, and when to use each product.
3. Know Your Resources.
The Team Isagenix blog also covers AMPED and nutritional timing in great detail, along with a new video you can show at Launch Parties and home events.
Frequently Asked Questions
AMPED adds a new dynamic to the Performance Solution and people will have a lot of questions. Luckily, our science team has answers! Check out the AMPED frequently asked questions on IsagenixHealth.net to sound like a pro when speaking about these new products.
AMPED Podcast
Research Nutritionist Alex Mohr, M.Sc., explains the benefits of AMPED NOx, Fuel, Power, Recover, and the soon-to-be rebranded Replenish as AMPED Hydrate in this 30-minute Isagenix Podcast.
4. Share AMPED Products.
Amplify Your Workout Brochure
If you want a high-quality handout to help you share AMPED products, the Amplify Your Workout brochure is for you. Available through IsaSalesTools.com, the brochure lays out each AMPED product and describes their features, benefits, and how to use them.
Earn Product Introduction Bonuses
Did you know Isagenix offers Product Introduction Bonuses (PIB) when you refer new customers and they purchase one of our systems or paks? Earn up to $80 when you refer a new customer who purchases our Performance Value/President's Pak with the opportunity to double that with our Double PIB promotion. Learn more about how to boost your supplemental income and how to grow your Isagenix business at IsagenixBusiness.com.
You know the products, you understand the science, and now you know how to share the latest and greatest performance line with all your friends and family. Use these four steps to make AMPED a cornerstone of your business!