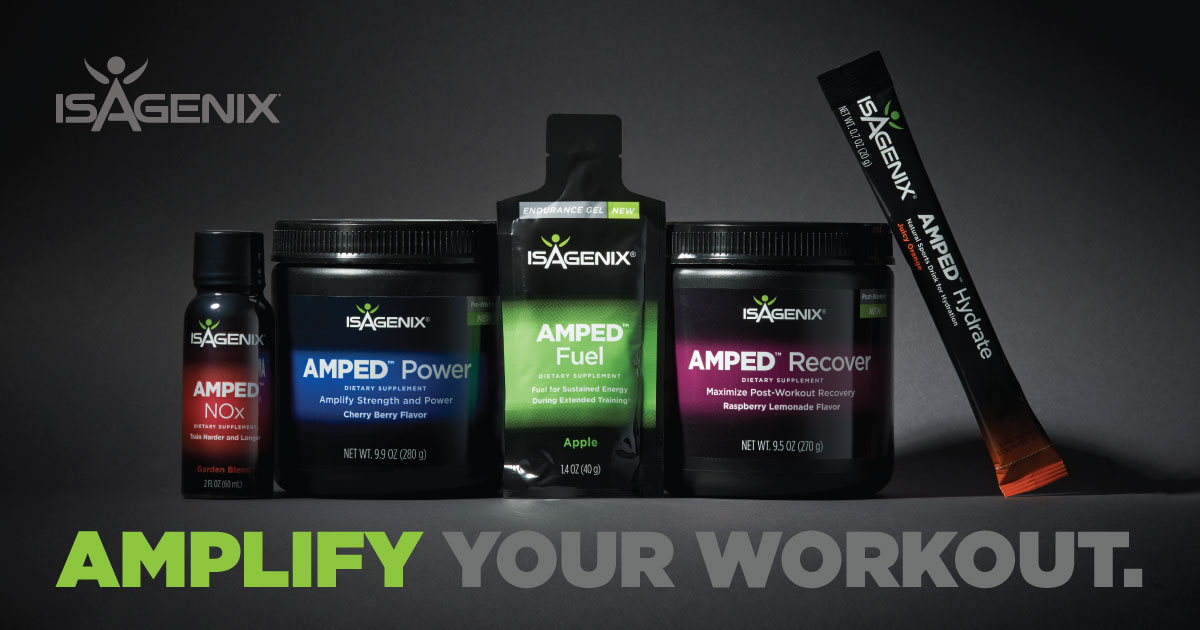 Today, a room full of product users hungry for greatness had the opportunity to learn more about AMPED™ products, nutritional timing, and how to share AMPED with friends and family.
The AMPED product line—AMPED Power, AMPED NOx, AMPED Fuel, AMPED Hydrate, and AMPED Recover—is unlike any other product or system in the Isagenix catalog. That's why Gillean Barkyoumb, MS, RD, Sales Program Manager for Isagenix, joined a panel of Isagenix leaders and Team Isagenix Ambassadors to explain everything you need to know about this amazing product line.
The Speakers
Gillean Barkyoumb, MS, RD, Isagenix Sales Program Manager
Alex Mohr, M Sc., Isagenix Research Nutritionist
Cathy Savage, Team Isagenix Ambassador
Darryl Daniels, Team Isagenix Ambassador
Amyra Mondon, 2014 IsaBody Challenge® Grand Prize Winner
The Products
Every AMPED product contains a synergistic blend of high-quality ingredients to improve your workouts and results, but it's when these products work together where the final results really come through. The speakers spent time explaining each product and fielding questions from the attendees.
Read more: Amplify Your Workout with the AMPED product line.
Nutritional Timing
The AMPED product line relies on nutritional timing for maximum results and uses three windows—pre-workout, mid-workout, and post-workout—to help improve strength, endurance, and recovery so you see an increase in performance from every angle.
Read more: What do I take and when do I take it?
Learn How to Share AMPED
Did you or anyone you know start their Isagenix transformation with a 30-Day System and didn't quite know what to do next when it was complete? That's common for Isagenix product users, and it creates a great opportunity to reach a new demographic of people who are ready to move onto the Performance Solution after success with Weight Loss.
There is a lot of great information behind what makes AMPED an incredible line of performance products, but sometimes sharing that information with others is easier said than done. The breakout trainers shared how to talk about AMPED and how to share the products with friends and family.
Read more: Build your business with AMPED.
You can learn every ingredient and scientific fact about the AMPED product line, but you can't fuel your performance until you actually use it! Visit your Back Office to order AMPED today, and find out why these athletes and ambassadors at Isagenix love it so much.