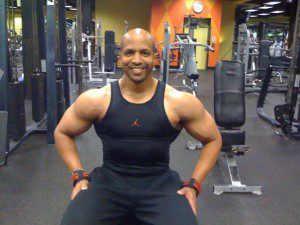 Karim Rasool isn't new to supplementing his diet with healthy nutrition as a powerlifting deadlift veteran and accomplished bodybuilder.
But, with 15 years in the industry, 45-year-old Karim of California says he's never experienced results like he has with Isagenix®.
"We were noticing amazing results including improved recovery, improved strength, loss of body fat; you name it," shares Karim. "I've never taken a product where I can feel instant results like this."
The 242-pound strongman recently competed in the 2011 United States Powerlifting Association's Norcal Powerlifting Championships and took home top honors, even setting a State and American record for his deadlift of 573.2 pounds in his age and weight class.
"I'm a father of two who is driven to inspire others and make a difference," says Karim. "I got into the sport of bodybuilding because I was tired of being very skinny. My goal is to have a positive impact on others by showing that with hard work and dedication, you can achieve your goals regardless of age."
Karim is also the second-place titleholder of 2010 Natural Mr. California, an ISSA certified fitness trainer and NFPT advanced sports nutritionist.
Listen to more of Karim's story and watch his record-breaking deadlift in this video: