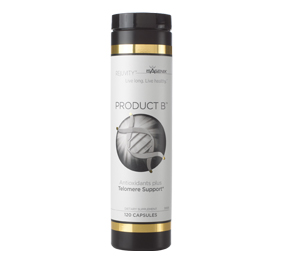 September is annual Healthy Aging Month, a time when we are reminded to focus on the positive aspects of growing older and take personal responsibility for our health – physically, socially, mentally and of course, financially. And what better way to help us all age more gracefully than applying  the powerful telomere supporting, super-charged new formulation of Product B™ Antioxidants plus Telomere Support, now in it's powerful new third generation.
Telomere Support to the Rescue!
Scientists have found the ticking biological "clock" that presents valuable clues on aging and longevity–telomeres. Your telomere health can be the difference between just growing old or living a longer, fuller life filled with youthful vitality. The potent new third-generation of Product B now has more telomere supporting action, so you experience even greater benefits of increased energy, improved fitness and greater feelings of youthfulness and vigor.
Better together.
While Product B offers dramatic telomere support, it was never designed to be taken by itself. For best results, remember that Product B is a potent addition to your Isagenix® system that includes Cleanse for Life®,IsaLean® Shake, Ionix® Supreme, and is best with Ageless Essentials™ Daily Pack for Men and Women. Save the most and enjoy Product B in a daily handy packet thanks to our Ageless Essentials™ Daily Pack With Product B™.
Remember, National Healthy Aging Month is a time to reflect on our current health and our healthy aging plan for the future. Take a look at your life now and consider what life could be if you really took charge of it and focused on youthful aging.
Go beyond surface symptoms and target the ultimate causes of aging. Now in its more potent third generation, Product B is the youthful aging catalyst we've all been waiting for. Find out more at Isagenix.com.