On the hunt for that pot of gold this St. Patrick's Day? We might not be able to help you find it, but we can give you a treat that'll make you feel like you're just as lucky. You've gotta try our delicious Strawberry St. Paddy's Day Shake!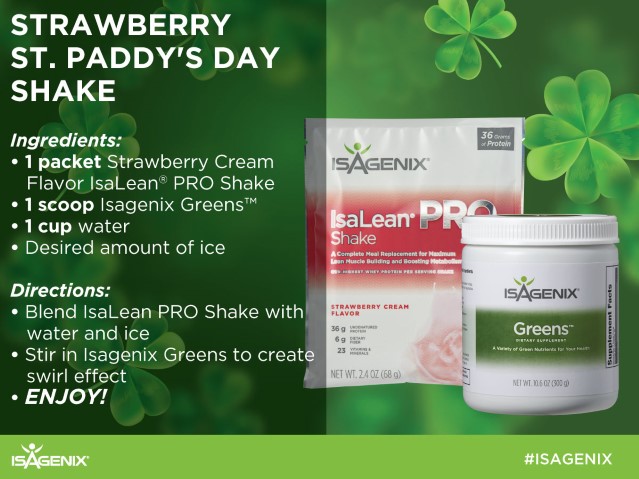 Why We Love It
With an incredible 36 grams of protein, supported by a superior branched-chain amino acid profile, Strawberry Cream Flavor IsaLean® PRO Shake can help you gain muscle and break through weight loss plateaus by satisfying hunger, boosting metabolism and maximizing lean muscle gain.
Plus, not only will the addition of Isagenix Greens™ keep you from getting pinched, it will also help ensure you're getting the phytonutrients you need.
We want to hear from you! Have you been getting creative with your Isagenix products in the kitchen? If so, we would love to feature you at IsaFYI.com or on our social media outlets. Simply email Recipes@IsagenixCorp.com to share your recipe and photos. We'll certainly credit your creativity, and we might even give you a complimentary product as a thank-you.
This great shake isn't only for once a year! Visit your Back Office, and add these great products to your next wholesale or Autoship order today.