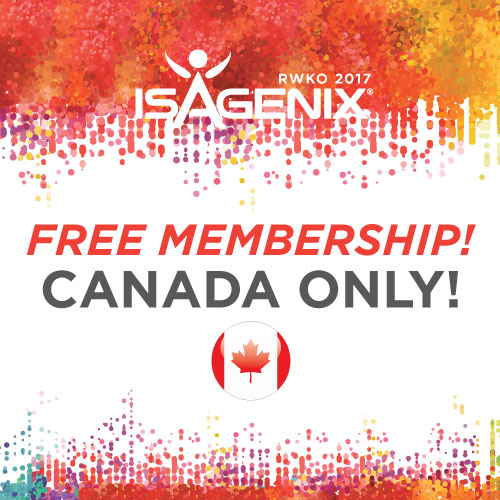 Now that we have kicked off the new year, we want to help you help others get started with Isagenix the right way and support you in getting a jump on your 90-Day Action Plan. Beginning Feb. 26, through March 5, we are excited to offer you the opportunity to invite prospective Customers who reside in Canada to join Isagenix with free Membership!* To take advantage of this free Membership offer, a new Member must join with an initial order of 150 BV or higher. If the new Member purchases a pak that already includes free Membership, they will receive CA$29 off their pak instead.
Here's your chance to reconnect with people who reside in Canada who have shown interest in Isagenix in the past or those who have been sharing their health and wellness goals for the new year. Ask them to join you in transforming your health and getting in the best shape of your lives this year with the help of Isagenix.
If any of your new Members are interested in sharing Isagenix with others to earn bonuses, help them opt in to the 90-Day Action Plan to get support and training on how to begin building their businesses. To opt in, have them sign in to their Back Office, click on the "Training Center" tab, and then click the 90-Day Action Plan icon.
We can't wait to see how many people you will help and inspire through Isagenix this year!
*Free Membership will automatically be applied to qualifying orders placed by a new Member in Canada from Feb. 26, 2017 (12:01 a.m. ET), to March 5, 2017 (11:59 p.m. ET). Qualifying new Members who select a system or pak including Membership as their initial product order will receive a CA$29 discount on their pak instead.